The Best Seafood You Can Find in Portland
Portland, Oregon, is renowned for its vibrant food scene, and seafood enthusiasts are in for a treat when visiting this Pacific Northwest gem. With its proximity to the bountiful Pacific Ocean, Portland offers a wide array of delectable seafood options. From fresh catches to innovative preparations, the city's restaurants are dedicated to delivering a memorable seafood experience. In this article, we'll explore some of the best seafood you can find in Portland, where quality, flavor, and sustainability take center stage.
The Best Seafood You Can Find in Portland
Portland's seafood scene is a treasure trove of culinary delights. From historic establishments like Jake's Famous Crawfish to sustainable pioneers like Bamboo Sushi, there's no shortage of exceptional seafood experiences to be had in the city.
Whether you prefer casual eateries, upscale restaurants, or immersive fishing expeditions, Portland has something to satisfy every seafood lover's palate. So, embark on a seafood journey and savor the best that Portland has to offer.
Jake's Famous Crawfish
Established in 1892, Jake's Famous Crawfish is an iconic seafood restaurant in Portland. With its timeless charm and exceptional seafood dishes, Jake's has become a go-to spot for locals and tourists alike. Their menu showcases a variety of seafood delights, including Dungeness crab, fresh oysters, and their famous pan-fried oysters. Whether you're in the mood for classics or innovative creations, Jake's Famous Crawfish is a must-visit.
Eventide Oyster Co.
Known for its commitment to sustainability and quality, Eventide Oyster Co. brings the flavors of the Atlantic coast to the heart of Portland. Specializing in oysters, this trendy seafood spot sources their shellfish directly from reputable farms. From briny to buttery, Eventide offers an impressive selection of oyster varieties. Don't miss their signature brown butter lobster roll, a culinary masterpiece that will leave you craving more.
Bamboo Sushi
When it comes to sustainable seafood, Bamboo Sushi leads the way in Portland. As the first certified sustainable sushi restaurant in the world, Bamboo Sushi is dedicated to sourcing its seafood responsibly. Their menu features a wide range of sushi and sashimi options, from classic rolls to unique creations. Whether you're a sushi connoisseur or a seafood enthusiast, Bamboo Sushi offers an unforgettable dining experience.
Southpark Seafood
Located in the heart of downtown Portland, Southpark Seafood has been a local favorite since 1997. This upscale restaurant takes pride in serving the freshest seafood available. Their menu highlights Pacific Northwest delicacies like wild salmon, Alaskan halibut, and Oregon Dungeness crab. With an emphasis on seasonality and locally sourced ingredients, Southpark Seafood delivers an exceptional dining experience.
Jacqueline
For those seeking a more intimate seafood experience, Jacqueline is the perfect choice. Tucked away in Portland's East Burnside neighborhood, this cozy restaurant offers a seasonal menu inspired by coastal flavors. Jacqueline showcases a rotating selection of fresh oysters, delicate crudo, and creatively prepared seafood dishes. The charming atmosphere and attention to detail make Jacqueline a hidden gem in the Portland seafood scene.
The Fishwife
Located in the charming Sellwood-Moreland neighborhood, The Fishwife is a beloved seafood restaurant with a cozy and casual atmosphere. Known for its friendly service and fresh seafood, this family-owned establishment offers a diverse menu that caters to all tastes. From fish and chips to seafood chowder and Dungeness crab cakes, The Fishwife's dishes are prepared with care and highlight the flavors of the Pacific Northwest.
Olympia Oyster Bar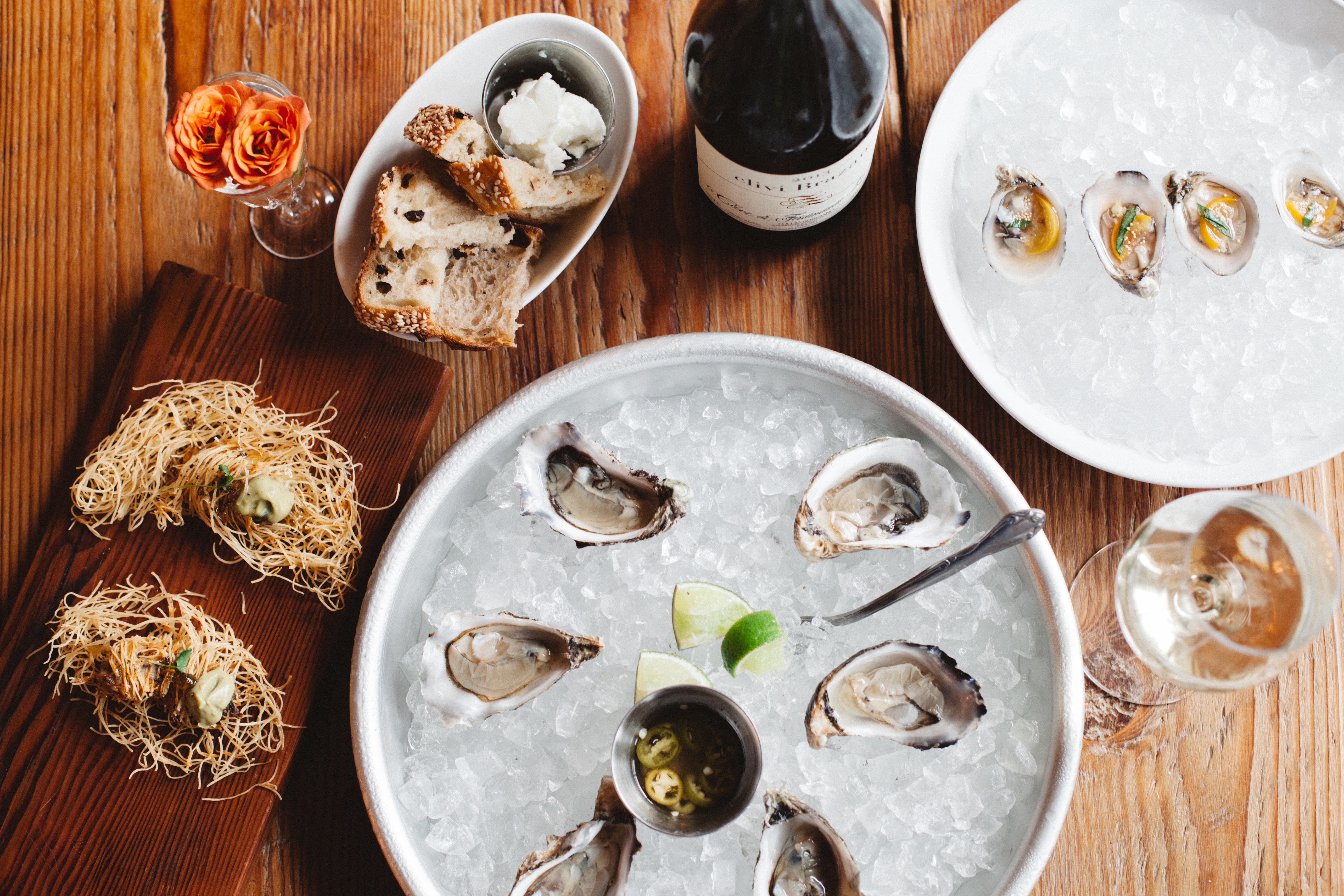 For an intimate and intimate seafood experience, Olympia Oyster Bar in the bustling Division/Clinton neighborhood is a must-visit. This small and stylish oyster bar specializes in Pacific oysters and serves them in a variety of ways, from raw to grilled and even as part of unique seafood small plates. With a focus on quality and sustainability, Olympia Oyster Bar showcases the best of the ocean's bounty.
Flying Fish Company
If you're looking for a seafood market and eatery all in one, Flying Fish Company is the place to be. With two locations in Portland, this seafood hotspot offers an impressive selection of fresh catches sourced directly from sustainable fisheries. You can choose your fish and have it expertly prepared on-site, or take it home to cook yourself. From whole fish to fillets and shellfish, Flying Fish Company is a seafood lover's paradise.
Salty's on the Columbia
For a waterfront dining experience with breathtaking views, Salty's on the Columbia is an excellent choice. Located on the Columbia River, this upscale seafood restaurant offers a luxurious atmosphere and an extensive menu. Indulge in their renowned Sunday brunch featuring an array of seafood delights, including fresh oysters, Alaskan king crab legs, and smoked salmon. Salty's commitment to quality and presentation ensures a memorable dining experience.
Shuck Portland
As the name suggests, Shuck Portland is a haven for oyster lovers. This intimate oyster bar and restaurant focuses on showcasing the diversity of Pacific Northwest oysters. With a knowledgeable staff and a rotating selection of oyster varieties, Shuck Portland offers an educational and delicious experience. Pair your oysters with a glass of wine or champagne for the perfect culinary combination.
Catch Your Own Seafood!
If you're seeking a unique and adventurous way to enjoy seafood in Portland, look no further than joining a fishing charter! Here at Portland Fishing Trips, we offer fishing charters and crabbing trips where you can catch your own seafood under the guidance of experienced fishermen. Imagine the satisfaction of reeling in your own salmon or crab and then having it prepared fresh for you to enjoy. This option provides an unforgettable opportunity to immerse yourself in the maritime culture and savor the freshest seafood possible, so contact us now to learn more about our charter services.
Wrapping It Up
Portland is a seafood lover's paradise, offering a diverse range of culinary experiences that showcase the region's abundant coastal resources. Whether you prefer classic preparations or innovative twists, the city's seafood restaurants have something for everyone. From historic establishments like Jake's Famous Crawfish to sustainable pioneers like Bamboo Sushi, Portland's seafood scene is sure to leave a lasting impression. So, the next time you find yourself in the Pacific Northwest, be sure to indulge in the best seafood Portland has to offer. Bon appétit!