Columbia River Salmon Fishing Charters
Columbia River has some of the best Salmon fishing Oregon has to offer. It is a Mecca for salmon fishing in the Pacific Northwest. It's considered one of the best spots in America to catch King Salmon and Coho salmon during their annual migrations up from the sea. Let's explore more about fishing in the Columbia River.
Why Salmon Fishing on Colombia River is Great
The majority of the salmon that swim up into this river system is King or Chinook salmon. They typically begin to return in May and continue well into autumn. Of course, these fish congregate at different times based on their life cycle, but you can generally find a time during the season when they're there. They're pretty predictable when it comes to the habitats they tend to frequent. This is good for anglers who may be new to catching these fish or want a more direct experience.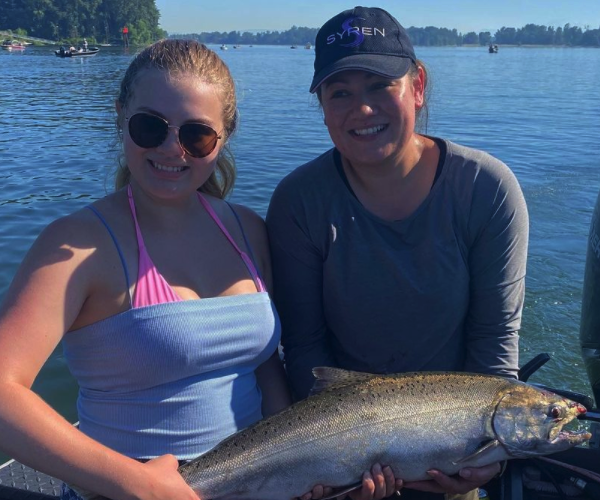 The Waterflow of the River is Not Too Strong
One of the biggest challenges with salmon fishing in rivers is keeping your bait at the depth where fish are likely to be. The Columbia River is deep enough, so you don't have to worry about getting your line snagged or drifting too far downstream when you do catch something. While there are occasions with dam water releases, these provide better opportunities for anglers to get better salmon. You can always find the salmon where there's action at any given time.
You Can Catch Several Different Species of Salmon
If you're really into salmon fishing, then this is a great place to be. This is because it allows you to catch several different species. You have Chinook salmon, Coho salmon, trout, and steelhead all swimming past you each year. It makes for a truly unique opportunity to hook into several different types of gamefish on the same body of water. 
You May Catch Other Fish Along the Way
At least one out of every four fish you catch in the Columbia River will be other species besides just salmon. That's quite a high percentage, and it makes for an exciting moment when you reel in a trout or steelhead because you never know what you're going to get. If nothing else, it makes for a fun time trying to figure out precisely what type of fish you have on your line.
There is Accessible Shore Fishing
There are numerous areas where people can access the Columbia River shorelines along this section of Oregon, so there's no reason not to give it a shot. The best thing about fishing from shore is that you don't have to worry about the small details of being on a boat. You can just sit back, relax and enjoy your day while waiting for that next bite.
Everything You Need to Know about Fishing for Salmon near Columbia River in Oregon
The Most Common Fish at Columbia River
The most common salmon you'll find in the Columbia River is the King or Coho salmon variety. These fish can grow up to 4ft long and weigh around 50 pounds, so they're certainly not the type of fish that should be taken lightly. They prefer deeper waters where they can hide from predators.
What to Carry when Fishing at Columbia River
Besides the regular fishing gear, it's always a good idea to have an extra fishing line on hand. This is especially true when you're dealing with rivers that are known for their strong currents. You don't want to lose your spool of the line, so it's best to be prepared just in case something goes wrong.
The Best Time to Fish for Salmon at the Columbia River
The Columbia River is one of the best places in North America to catch salmon, especially spring Chinook salmon. The fall Chinook run begins in August and peaks in early November. If you are looking for a high-energy fishing experience with an opportunity to hook into large King Salmon, then "Springers" is the trip for you.
Common Techniques Used to Catch Salmon
The Bait and Switch
The bait and switch technique is perhaps one of the easiest ways to catch salmon. The idea here is that you're trying to mimic a dying or dead fish, sometimes referred to as "pogy chumming", by using an entire sand lance as your hook bait. This is a small fish that is sometimes used as chum to attract larger, more aggressive fish.
The Trolling Live Bait Technique
The live bait technique involves using either anchovies or shad and casting them out behind your boat while trolling along the water's surface. This is a great way to use some of the natural food sources of salmon to entice them into biting.
Troll Baits Such as Spoons and Spinners
If you don't have live bait or prefer not to use it, then this is an excellent alternative because trolling lures along the water's surface will mimic the movements of a wounded or dying fish. Salmon tend to be aggressive hunters, and this technique will help you appeal to a salmon's instinct.
Fly Fishing for Salmon
If you have some fly fishing experience, there is no better place in the Columbia River to give it a shot than here. There are plenty of opportunities to find the fish here, and with the proper techniques, you may even land yourself a trophy.
Why You Should Choose Columbia River for Your Next Guided Salmon Fishing Trip
Salmon fishing trips are a great way to spend time outdoors with friends, family, or even by yourself. However, not all salmon fishing trips are the same, and the Columbia River is best known for its cold, clear waters, where fishers have an excellent chance at catching some large King Salmon and Coho. This river provides everything you need to enjoy your next guided salmon fishing trip.