Tillamook Fishing Charters
Hook'em Up Guide Service is your premier fishing charter and guide service for catching salmon, sturgeon, and steelhead trout in and around the Tillamook Bay.
Everyhing You Need to Know About Fishing the Tillamook Bay
The city of Tillamook in Oregon is an angler's paradise. That's because it sits on the shoreline of the Tillamook Bay and houses some of the most lucrative fisheries in the State of Oregon. Couple the many waterways of the Tillamook region with the varied angling opportunities of the nearby Pacific Ocean and you'll realize that Tillamook has a lot going for it. No wonder the city goes by several fishing monikers like "Land of many waters," and "Gateway to the Oregon coast."
The Tillamook Bay has five rivers (Wilson, Trask, Kilchis, Miami, and the Tillamook Rivers) that drain into it. The rivers' waterways mix-up with the saline waters of the Pacific Ocean to form the best brackish fishing spots in the Oregon area. As a result of this saltwater fishing, your Tillamook fishing charter could see you hook and reel in several Oregon fish species. The most notable catches to look forward to are Oregon's big four namely Chinook or King and Coho salmon, sturgeon, and steelhead or rainbow trout, not to mention that you can also explore the rivers  in Tillamook for crabs and clams.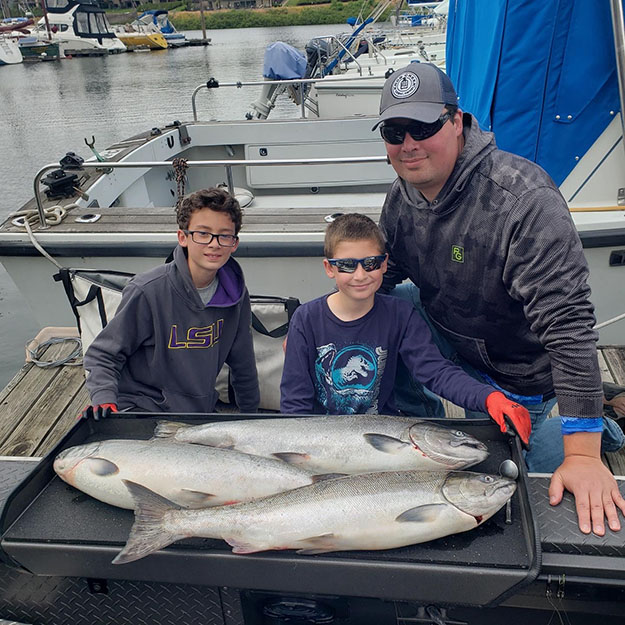 For all you first-timers, we're proud to inform you that Tillamook fishing is a whole lot more than just setting up your tackle and reeling in tasty-eating fish right into your cooler. The rich-history of the bay, picturesque views, and intrigue are also some of the attractions that pull in thousands of anglers to the Tillamook Bay every other year.
For your information, Tillamook Bay is the State of Oregon's second largest estuary after the Columbia River estuary. It's also home to dozens of different fish species, wildlife, and sea birds. And it wouldn't be a surprise to run into some whales, seals and sea lions while on your Tillamook fishing charter, all of which add onto the beautiful scenery of the bay.
To plan the perfect Tillamook fishing tour, you'll first need to decide what fish you want to catch and then liaise with one of the many Tillamook charters on offer. Crabbing and clamming is available year-round and makes for an exciting Tillamook fishing charter for you and your family or fishing buddies. Book a trip that will last a few hours on the Tillamook Bay shallows or go for the full-day fishing expedition option to traverse several fishing spots and hunt more trophy fish.
Anglers aged 12 and above need a valid fishing license before they hit the waters and set up their tackle. Plus, for all crabbing action in Tillamook, you'll need to get a shellfish harvesting permit online from the Oregon Department of Fish and Wildlife website or from an authorized local crabbing permit dealer.
With five rivers coming into the Tillamook Bay, the bay is a habitat to some of the largest King Salmon on the Oregon coast. These fish typically eclipse the 35-pound weight and have robust runs on the Tillamook Bay starting from mid-August through October on the Tillamook fishing calendar.
You're better off catching a Tillamook crabbing charter in the peak Dungeness crab fishing season that usually happens late in the summer months around the Area G crabbing zone. For better chances at picking up some clams, you'll have to try the fishing areas found in the upper parts of the Tillamook Bay.
How about an overview of the Tillamook fishing seasons on a month by month basis? January kicks-off the fishing season with some exhilarating sturgeon fishing action. The start of the year is also a great time to go crabbing on the bay. Come February most of the Tillamook fishing guides focus the trips on sturgeon following the winter heavy rains and the crabbing and clamming is also still hot.
The fishing activities at the beginning of spring in March are pretty much an offshoot of the February fishing season as anglers continue to target colossal sturgeon and the clamming starts to enter its peak. April is a bit slow since not that many sturgeon are biting, but it's the time of year when anglers get ready for spring King and Coho salmon runs.
Clamming is at an all-time high in May and King salmon angling is in full swing, which means you can easily reel in 30-pounder chinook if you're fishing in the company of an experienced Tillamook fishing charter.  June brings in the summer air and is a continuation of the hunt for king and Coho salmon through to July, August, and September.
In October, you can head out to the Tillamook Bay and its many tributaries to accelerate your chase after King and Coho salmon. And it turns out that the October-November Tillamook fishing season is also the best time of year to catch some crabs. The rest of November is marked by sturgeon fishing and more crabbing and clamming on the Tillamook Bay.
It's likely that Coho and Salmon forecasts and actual numbers will be lower in December. So, if you plan on taking a Tillamook fishing charter over the December holidays, concentrate your angling efforts on the returning sturgeon and the considerable crabbing opportunities that'll still be available as the year comes to a close.
The primary reason you'll want to work with a Tillamook fishing charter for your fishing expedition is that the fishing guides provide anglers—especially beginner fishers—with diversified fishing opportunities in various fishing locations found in the Tillamook Bay itself, the Pacific Ocean, Wilson River and much more fishing possibilities.
Additionally, the Tillamook Bay houses numerous top fishing guides that dot much of its coast. And did we mention that salmon fishing in the bay isn't exactly the easiest thing to do even for those of you fishing enthusiasts that have some level of angling experience from elsewhere? So, Tillamook fishing charters will make your fishing tour a hassle-free adventure and actually increase your odds at catching sizable loads of fish during the hottest fishing seasons and runs of salmon and steelhead.
Fishing Locations Near Tillamook, Oregon
For some folks, Tillamook, Oregon may be synonymous with cheese, but for the vast majority of anglers, Tillamook is home to prime Oregon fishing zones for fishers looking to catch boatloads of salmon, steelhead, and crabs.
Additionally, the city is located west of Portland, Oregon, with most of its fishing waters just a little over an hour's drive from the Tillamook metropolis.
Tillamook Bay Fishing
At a length of 6 miles and width of 2 miles, the Tillamook Bay is the smallest inlet to drain into the Pacific Ocean. But for its size, the bay offers an immersive fishing scene.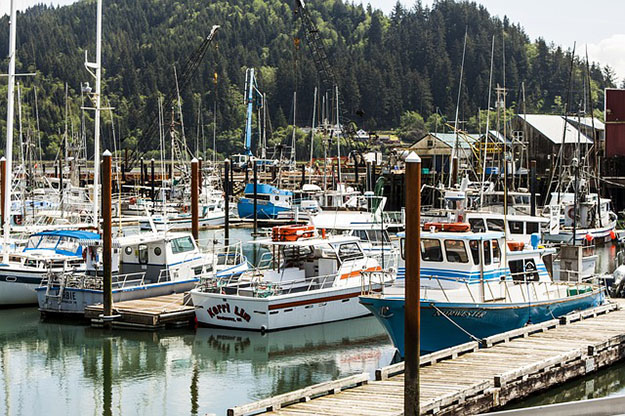 Coho Salmon Fishing – September-October
In general, the Oregon area Coho salmon are known for their late summer and fall peak runs. And in Tillamook Bay Coho fishing usually merges with King Salmon fishing in the fall fishing season, with its climax coming in September and October.
Coho run forecasts in the bay are more or less recurrent, but with slight fluctuations year on year. There will be Coho fishing seasons where anglers catch lots of these silvers than they typically would when chasing after promising king salmon runs.
We'll be the first to tell you, our attempt at catching Tillamook Bay Coho salmon will be tough. That's because brackish water Coho are highly aggressive when they bite your trolling baits and lures. The fish will put up a fight. They can tell that they're losing vertical space as you reel them in, so their automatic reaction is to yank at the fishing line and jump about to unhook and free themselves. So prepare for what fishing guides call in fishing circles a hard tackle.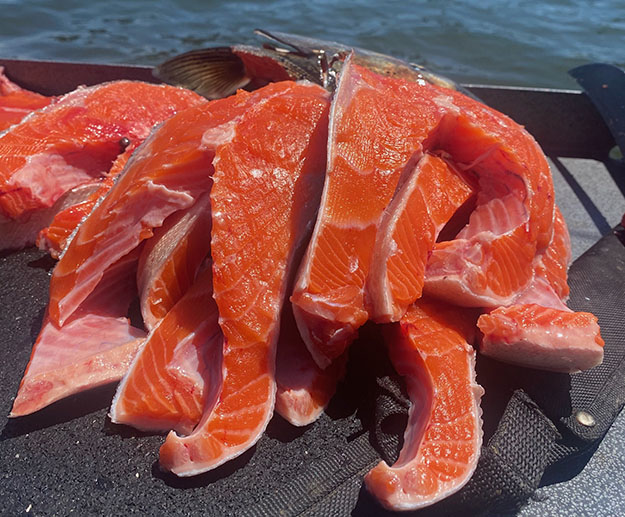 Coho move about the bay and most end up at the Trask River that also coincidentally holds a Coho salmon hatchery. As with state fish and wildlife laws in the entire State of Oregon, the only hatchery-bred Coho salmon you're allowed to catch are those with a clipped adipose fin.
Quite the opposite of hatchery-reared Coho, wild Coho runs tend to be strong with larger forecasts. When the numbers allow it, the Oregon Department of Fish and Wildlife allows limited harvests for these wild, unclipped adipose fin fish in the Tillamook Bay. Always stay tuned for an announcement of these set regulations from the department's website or check with your Tillamook fishing charters for a lowdown.
At times, mildly heavy late fall rains direct most of the Tillamook Bay Coho runs up the bay's rivers which slows down Coho hunting in the actual bay for that particular year.
King Salmon Fishing – March-October
You can't come up with a list of best King salmon fishing spots in Oregon and fail to mention Tillamook Bay. That would be a disservice to the hundreds of Chinook salmon anglers in Oregon. We can confidently declare Tillamook Bay a premier fishery on the Northern Oregon coast and among the top fishing zones in the Lower 48 states for monster-size King salmon fishing. Here sport anglers often take home several thousand King salmon in the period from the late winter spring through summer and early fall fishing months.
Considerable numbers of King salmon enter the Tillamook Bay in August. But it's advisable to plan your Tillamook Coho salmon fishing charter around September which is when the fish gather in the bay almost all month leading to a peak King salmon fishing season in October. Don't forget that early November can also be a successful King salmon fishing run in case you'd like to prolong your hunt for these trophy fish while on the bay.
Specific areas on the Tillamook Bay that you should pay close attention to include the fishing points between the jetties in the south of the bay and deeper into the tidewater areas. Also, turn your focus south of the Garibaldi fishing village and closer to the Highway 101 side of the bay for some more King salmon fishing action.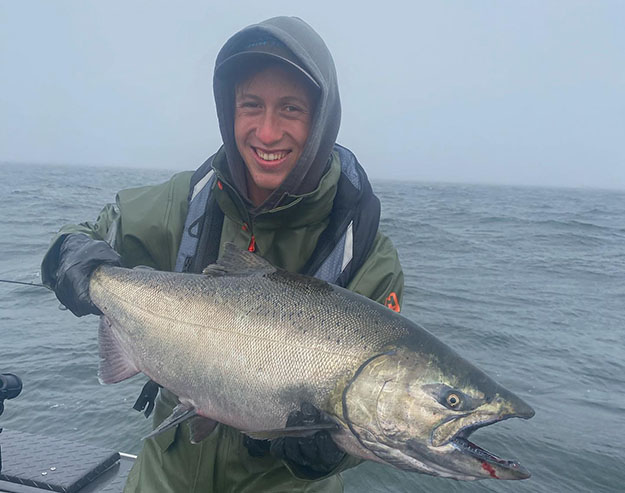 Daredevil anglers will prolong their Tillamook Bay King salmon season by overcoming the incoming tides and chasing the fish in fishing spots south of the jetties toward the rivers that come into the bay. It's risky but worth it because all the rivers that feed the bay have sizable King salmon runs, with the largest King salmon runs often coming from the Trask, Kilchis, and Wilson Rivers.
Early November is still lucrative for King salmon angling, remember? But you'll have to fish further south beyond the Wilson River tidewater fishing spots to catch a break and land some oversized King salmon.
King salmon fishing on the bay is best enjoyed while boat fishing. Troll bait using herring or use lures such as spinners and wobblers the likes of kwikfish and flatfish. You can always depend on bobber fishing with bait on tight space river tidewater areas.
It'll be fun to ditch the boat and hit the banks for some bank angling in the jetties and along highway 101 at the Ghost hole.
Dungeness Crab Fishing – September-October
Going crabbing on the Tillamook Bay? Gear for massive crowds of fellow "crabbers." Apparently, Tillamook Bay is an overly popular crabbing spot on the northern coast. But the larger numbers of anglers all after the crabs and clams shouldn't be a problem because it is a good thing the bay is big enough for with lots of crabbing zones.
Similar to fishing in the bay, the most crab-rich waters and clamming points are best accessible when boating on the bay. One of these crabbing areas is called Crab harbor or that's on the inside of the Kincheloe Point. It's a protected zone and the most suitable for boaters launching their Tillamook crabbing adventures at garibaldi.
The other more notable crabbing zone is the Pacific Ocean side at the point where Kincheloe in the Bayocean Peninsula covers a small area on the Tillamook Bay and extends outward to the Barview State Park. You can even go farther to the crabbing spot between the jetties and Barview but watch out for windy afternoon conditions that could work against your crabbing efforts.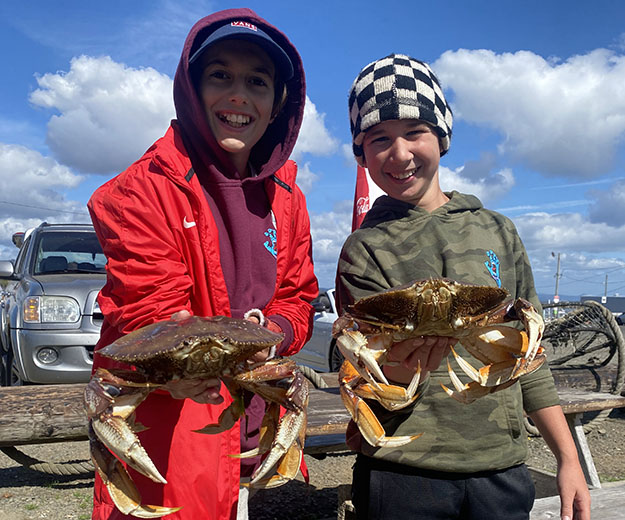 And don't forget about the deep shipping lanes in the main shipping channel that are great for crabbing, especially during the morning hours at the onset of the incoming high or low tide or what is known in the crabbing world as slack water.
For off-water crabbing action, hit the public docks down south the Port of Garibaldi or the west end of Bay lane and set up your baits, crab pots, traps, and nets to enjoy superb dockside Dungeness crabbing.
Check in with the Oregon Department of Fish and Wildlife for up-to-date regulations on the daily maximum number of Dungie crabs you are allowed to catch and of what size. Last we checked, you can only catch 12, 5-3/4″ minimum size for Dungeness crab males per day. The Correct size of the Dungeness crab is measured as a straight line across the back (caliper measurements) in front of, but not including the points.
Fish to Catch on a Tillamook Fishing Charter
Coho Salmon
You'll need a handful of spinner and jigs to go Coho salmon fishing in The Tillamook bay and surrounding rivers.  Before you cast a fishing line, pay attention to the water as the Coho jump, splash, and roll about aggressively to give away their position. Lay your trap and time the setting of the hook to catch the fish and reel it in.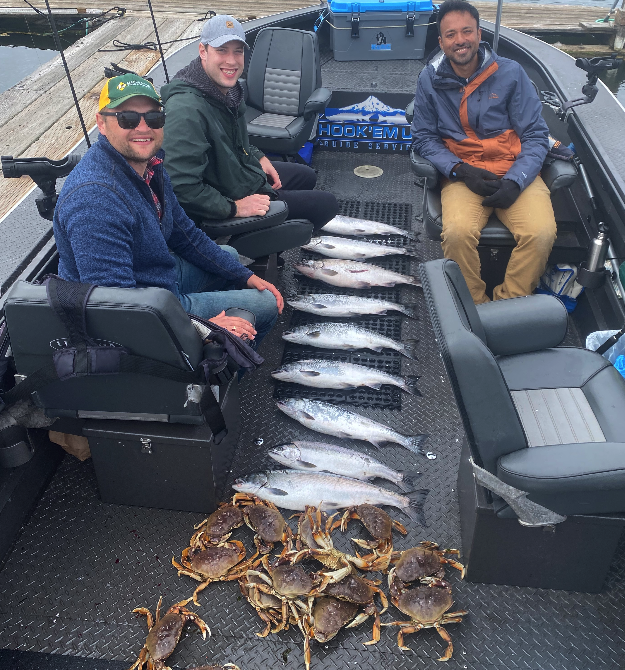 King Salmon
Anglers can catch Tillamook Coho salmon while both boating, anchoring and also while bank or fishing from the shores. Go with spinners or bait such as shrimp and anchovies when hunting King salmon in the rivers in the Tillamook area.
Sturgeon
Tillamook Bay won't disappoint anglers visiting the city for a sturgeon fishing charter because  the bay has one of the Oregon coast's most promising sturgeon fishing.  It's important for anglers to note that both the widespread sturgeon species (white sturgeon) and less-common type of sturgeon fish, the green sturgeon, are designated catch and release fish in Tillamook due to their declining numbers.
Best practice Tillamook sturgeon fishing involves using a rod, reel, and line with shad, sand shrimp, and smelt, or other fresh cut or whole baits. You can also go rigging with a heavy weight to ensure it stays at the bottom when fishing sturgeon in a strong current.
Steelhead Trout
Steelhead fishing in the January-March Tillamook fishing season requires anglers to go drift-boating in the lower Wilson River where the water levels are between 4 and 5.5 feet.
When the water levels rise in the Tillamook area rivers anglers can try out some upstream bank-fishing and fly-fishing with bait and tackle.
Why Choose the Tillamook for Your Next Fishing Trip
There are Diverse Fish Species to Catch
Tillamook has varied fish types and species to chase after. The different kinds of fish occupy many fisheries per square mile of The Tillamook Bay and the several upriver and lower river fishing spots on the rivers in the Tillamook region. From Coho and King salmon to sturgeon to steelhead to Dungeness crabs, anglers have a diverse selection of fish to explore while on a Tillamook fishing charter.
There are a lot of Rivers to Fish
Tillamook Bay serves as a brackish water inlet to the Pacific Ocean and the five main rivers (Wilson, Trask, Kilchis, Miami, and the Tillamook Rivers) that come into the bay. The five rivers should provide more than enough fishing opportunities even for a month-long fishing vacation in Tillamook.
Fantastic Attractions in Tillamook
You'll need some fun things to do in Tillamook in-between your fishing charters. How about visiting various local attractions such as the Tillamook cheese factory.
The Famous Tillamook Cheese Factory
The factory is run by the farmer-owned co-operative, Tillamook County Creamery Association, and boasts of close to a million visitors a year. You can check in for a tour of the facility any day between 8 a.m. to 6 p.m. except for holidays such as Thanksgiving and Christmas. And bring  your camera to capture fun and appetite for the free cheese, ice cream, and other food treats.
Great Food to Eat
Besides the readily available processed dairy products including cheese, ice cream, butter, sour cream, and yogurt, Tillamook has superb restaurants and dining spots where you can get a taste of the sea food fresh from the Tillamook Bay and adjacent rivers.
Great Scenery
The city of Tillamook has its fair share of scenic attractions including the Three Capes Scenic west of the city, Bayocean Peninsula Viewpoint off Highway 131, and the Cape Meares Lighthouse that's great for whale-watching and sighting some sea lions, common murres, and seals.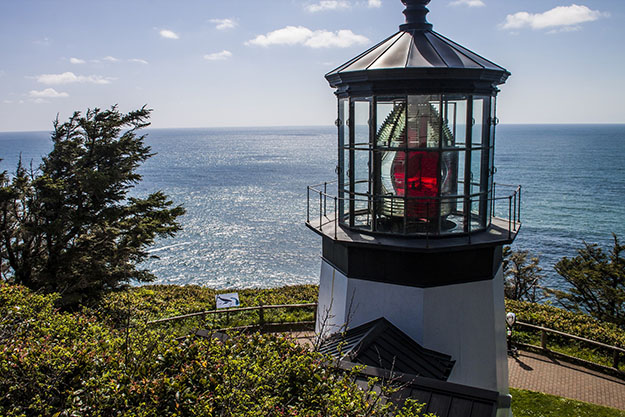 Why Choose Hook'em Up For Your Next Tillamook Fishing Trip
 Fishing with Native Oregonians
Nothing builds more confidence and earns the trust of an angler like being in the safe hands of a native Portland native fishing guide. There is only so much distance between Portland and Tillamook, probably less than an hour's drive between the two fishing cities.
You can rest assured that our Portland native fishing guides are equally well vast in the Tillamook fishing scene. So you can depend on Hook'em Up for all your Tillamook fishing charter needs. Whether you intend to catch steelies, sturgeon, and salmon or go crabbing, we've got you covered.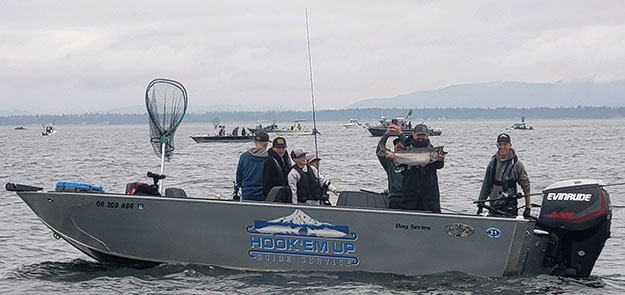 14 Years of Fishing Guide Experience
You don't want anything compromising your Tillamook fishing trip, right? The best way to avoid any mishaps is to hire Hook'em Up for a high-quality Tillamook fishing tour.
Why? Because we've got the fishing chops, the best tackle and gear money can buy, and a pretty good grasp of the Portland and Tillamook area fishing spots, game and sport fish.
But don't take our work for it. Checkout the hundreds of our online reviews, fishing reports, well-trained captains and charter crew, and fishing charter certification by the State of Oregon for proof.
Full-time Guide Services
Fisheries in the Tillamook Bay waters and its associated rivers can be just as dangerous as the pelagic Pacific Ocean fishing zones. Trust us, you're better off working with an experienced Hook'em Up Tillamook fishing guide when hunting fish in these brackish waters.
Plus, you won't have to bother about fishing equipment or where and how to catch the trophy fish. We have all that lined up for you so you can worry less and focus more on the fishing expedition.
2 Custom-Built Fishing Boats
You need a specially designed charter boat to traverse the Tillamook fishing spots. Hook'em Up provides a 26 foot customer boat fully-loaded with tackle and gear.
And we can provide 2 or more boats or multiple fishing trips for large size groups of anglers. Whatever fishing charter needs you may have, lay the plan on us and we'll come up with a personalized solution for you.