Hook'em Up Guide Service is your premier fishing charter and guide service for catching salmon, sturgeon, and steelhead in Astoria, Oregon.
Everyhing You Need to Know About Charter Fishing Buoy 10 in Astoria Oregon
 The port city of Astoria is not just home to one of the most famous Salmon fisheries in the world.  It also happens to be the oldest city in Oregon and the first place Americans settled west of the Rocky Mountains. The fishing city is located in Northwest Oregon on the south shore of the Columbia River right at the river's mouth, as it drains into the Pacific Ocean.

The large number of Astoria Buoy 10 fishing charters alone in this 40 square miles of the Columbia River estuary is a clear indicator of the vast fishing opportunities available in the Astoria region of Oregon. Astoria is also close to the Nehalem and Tillamook Bays which provide even more angling opportunities for fishing enthusiasts on an Astoria fishing charter.
Astoria and the Buoy 10 fishing spot not only provide world-famous native and hatchery fish, but the fishing zone is also a direct access point into the Columbia River. Additionally, it's a freshwater fishery esteemed for its large variety of Salmon.  the Buoy 10 zone is especially popular with Chinook or King salmon hunters in the Summer and early Fall King.  along with the feisty Coho Salmon.  This region culminates into more fishing action as Astoria fishing charters and anglers pursue Chinook and Coho Salmon in the summer fishing months. May and June sees the entry of the annual catch and keep sturgeon season in the Astoria Buoy 10 waters.  3 days per week (mon-wed-sat) anglers are allowed to keep a Sturgeon measuring between 44-50 inches.
While on an Astoria fishing charter, you won't just be treading the fresh waters in search of famous Oregon trophy fish. That's because this fishing area is close to the point of the mouth of the Columbia River and offers up some brackish fishing adventures for anglers who are up for that kind of challenge.  Rockfish, Lingcod and Dungenous Crabs are within reach.  The saline water fishing scene in Astoria tends to be in the shadows of its freshwaters angling counterpart but still adds onto the fishing opportunities of this part of the state of Oregon.
Plus, you can always hit the nearby Nehalem and Tillamook Bays in search of more fish or, even better, travel into the pelagic in the Pacific Ocean that's within reach from Astoria and bag yourself a couple of salmon varieties and some Dungeness and Red Rock crabs. Most Astoria Buoy 10 fishing charters explore the salt waters of the Astoria area fisheries all through spring, summer, and fall. But don't ignore the winter fishing seasons as it's also a prime time for crabs.  Crabbing is best November and December.
And did we mention that Buoy 10 is the best King salmon fishing spot in the world! The Oregon Department of Fish and Wildlife often forecasts and makes an estimate of a million and sometimes more King salmon as the fish pass right through Astoria on their annual Columbia River migration where they travel upstream to their home rivers to spawn.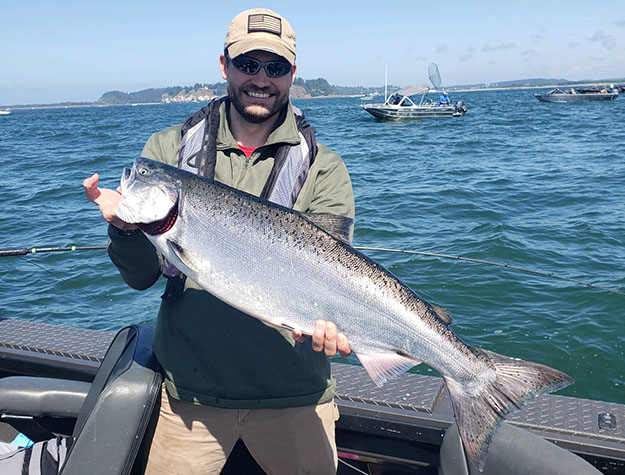 The annual Salmon run from the Pacific Ocean into the  Columbia River peaks August and September.  With the warm summer waters the Chinook swim in and out at the river mouth on the tide changes.  Acclimating to the warmer water before beginning their long migration upstream. Fishing those riptides of water at the river mouth is just one more reason why the Buoy 10 fishing zone is your best opportunity at enticing them with one last meal.  People travel from all over the world to get in on the Astoria "Buoy 10" King and Coho Salmon action.
Astoria, like most other fisheries in Oregon, also presents anglers with fertile fishing grounds for both retention/keeper and catch and release Sturgeon. Keeper sturgeon fishing is a bit limited due to conservatory efforts by the Oregon Department of Fish to control the Sturgeon population and maintain optimal numbers.
The Catch and release White Sturgeon fishing on the other hand, is almost always available in the lower Columbia River. As long as you have an appropriate Oregon fishing license to cast a line in Astoria, a tag, and a Columbia River Basin Endorsement. Kids all ages will need these same fishing documents while fishing even though the kids get them at no fee. Apart from having the right fishing gear, these are the only legal prerequisites to catching loads of big Sturgeon in Astoria.
You might be asking: "What about the Dungeness crabs?" Plan your Astoria Buoy 10 fishing charter around October, November, or December for an ideal and peak crabbing season in Astoria. You won't find a better Dungeness crabbing experience than what Astoria, Oregon serves up. The Oregon Department of Fish and Wildlife regulations limit Dungeness crabbing in Astoria to 12 Dungies per angler. So, make your Astoria Buoy 10 fishing charter reservations, get in there, and grab you 12 tasty-eating Dungeness crabs.
The unfolding of your fishing charter in Astoria, Oregon will largely depend on the fish you want to catch. Either way, you'll have a variety of options. The best charter to traverse the adjacent bays or the Pacific Ocean fisheries would be a full-day Salmon trolling and crabbing combo tour.
For the lower Columbia River, and Astoria's Buoy 10, for the most part, you're better off booking a couple of days worth of fishing expeditions when angling for one or two types of fish or crab.   One half-day or full-day fishing excursion will most definitely leave you wanting more. 
Fish to Catch on an Astoria Fishing Charter
Astoria Coho Salmon Fishing
The large numbers of Coho salmon swimming the Columbia River date back to the golden days when the Native Americans inhabited the river banks and lived off the fish. So, we guess it's safe to call the Coho the legendary salmon fish of the Columbia River.
Similar to other salmon varieties, Coho are no light-tackle fish. It's not enough to just hook one of these bad boys; you'll have to earn your keep. We are talking 10-20 pounders which fight hard when they bite. Use the appropriate fishing methods like trolling with heavy-duty fishing lines, baiting with lures (spinners and flashers), or live bait the likes of bait fish, anchovies, herring and shrimp to reel in these Chrome fish.  They carry the nickname "Silvers" for their bright glistening scale pattern.
You can even bundle up your hunt for Coho and King salmon into one fishing charter because the silvers and chinook runs are never that far off from each other in the lower Columbia River, especially when fishing close to the Buoy 10 estuary management area.

The preferred way to fish for Coho salmon at Buoy 10 is to troll with baits such as anchovies and herring dangling behind a flasher.
You never know what size of Coho will bite, so it will be great if you bring fishing line counter reels. Besides the counter reels will give you an idea of the depth of water you are fishing at.
Astoria King Salmon Fishing
King salmon are the largest of the salmon fish family. So you'll need to bring out the big guns if you are going to stand a chance reeling in one of these "Hogs".
You can fish for King Salmon by both boating and shore fishing near Buoy 10 or in the lower Columbia River and the Columbia River estuary.
The Buoy 10 fishing spot that covers part of the Pacific Ocean from the tongue point to the mouth of the Columbia River near Astoria is your surefire bet for heavy King Salmon fishing.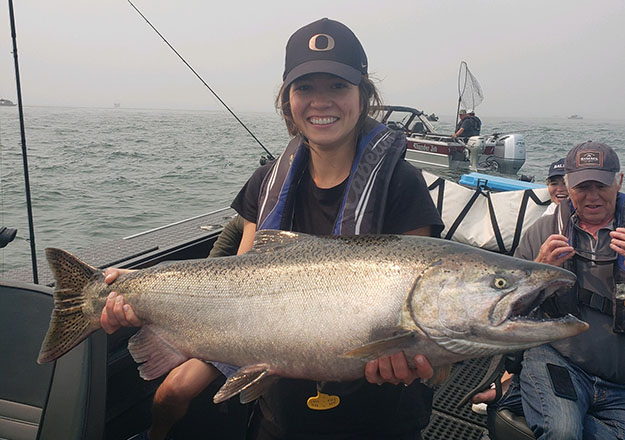 Further up the Columbia River as the King salmon begin migrating upstream to their destined spawning grounds, your best shot lies in fishing the Columbia River near areas such as the Cowlitz, Lewis, Willamette, and Sandy River tributaries.  The Salmon will school up at the mouth of these rivers waiting for the Fall rains to give them the highway they need to spawn.  The Columbia River Gorge near Bonneville Dam is also a highly productive area for Chinook Salmon.  They stack up and stage in this area.  Think of it as a rest area along the highway.
Want to witness the largest run of oversized "Summer Hogs" or King Salmon fish? You better book a lower Columbia River-Astoria Buoy 10 fishing charter before this year's July-September fishing season is over.
Opt for lures such as spinners and flashers or go with live bait, for example, salmon roe and sand shrimp.
Astoria Dungeness Crab Fishing
You can't really talk about crabbing in Oregon and fail to mention the Columbia River estuary. The Pacific Northwest's largest river confluences with the Pacific Ocean near Astoria to form the estuary which is famous for hosting sport anglers chasing salmon and other game fish as well as crabbers on the Columbia River.
The Columbia River crabbing season often starts in the late summer, well into October, and then subsides as commercial crabbers come onto the scene in the period between late December.
Fishing charters usually use the boat ramps in Astoria to launch crabbing adventures on the Oregon side of the river. So, many Columbia River crabbers have great crabbing spots like Astoria, Warrenton, the west of Hammond and out toward Clatsop Spit to set up their crab traps.
Come winter, the drainage of the river is frozen with moderate flows in January through February. You can still book an Astoria Buoy 10 fishing charter and hit the waters for decent crab catches in the mild mid-winter storms.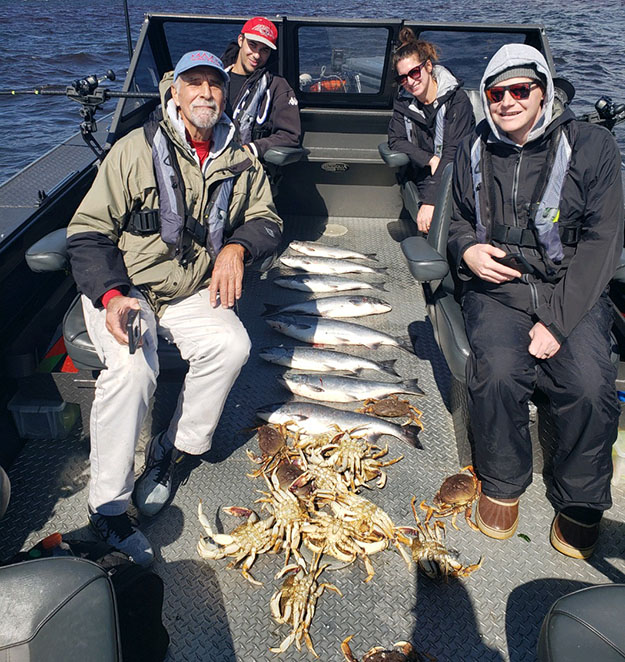 Summers aren't the best time to go crabbing in the Columbia River estuary.  Yet anglers still get some for their efforts.  But usually not limits for all like the peak season. At this time of year, the hydroelectric dams up the river are open and releasing a huge amount of water and the high flows are driving the Dungies out of the estuary.
Make your pick between crab traps, open crab rings, and closed crab pots when crabbing in Astoria or the Columbia River estuary. Make sure you use a rope that's long enough to get the pot to the depths of the waters.
Stick with crab rings if you want an easy-to-use crabbing method, but remember the rings are open and that crabs can enter and exit or, even worse, attract sea lions that steal your catch.
Crabs bait traps are perfect at keeping sea lions and other would-be crab-thief sea animals in Buoy 10. They are also ideal to lure the crabs long enough during those lengthy soaks. Crab traps work best when you couple crabbing with fishing. You can go for dead fish such as salmon for bait or turkey and chicken chunks that surprisingly repel sea lions.
In Oregon, it's not only standard practice but also a regulatory requirement to use buoys to hold up the rope that's tied to your crab trap, pot or ring. This is where employing a long rope comes in handy to resist the tides and hold the crab pot or ring in place. Use different color buoys for the obvious reason of differentiating your traps from those set by your fellow crabbers.  It is a requirement that your name and phone number must be attached to your buoy
Why Choose Astoria for Your Next Fishing Trip
You can Catch a Variety of Fish
You've got fisheries and crabbing spots in bays, jetties, docks, Buoy 10, the Columbia River estuary and Lower River Columbia fishing zones to explore.
These fishing spots give anglers access to miles of fresh and brackish waters as they chase after a wide variety of fish such as salmon, sturgeon, steelhead, and crabs.
There's a lot of Stuff to See
It turns out, there's more to Astoria than just great fishing escapades. Spare some time in your Astoria, Oregon fishing vacation to visit the Columbia River Maritime Museum which exhibits the fishing, shipping, and military history of Astoria. The Oregon Film Museum will also be a great stop to make especially if you would like to see some locally made movies and learn more about the city.
And, of course, there's the famous Astoria Column.
The Astoria Column
It's a 125 foot tall monument on Coxcomb Hill that towers over the port city. The outside the column bears markings that represent crucial events in the history of Astoria. And on the inside, locals and vacationers alike can take the 164-step staircase to the top where various parts of the city, the Astoria-Megler Bridge, and the mouth of the Columbia River are all visible from the Column's observation deck.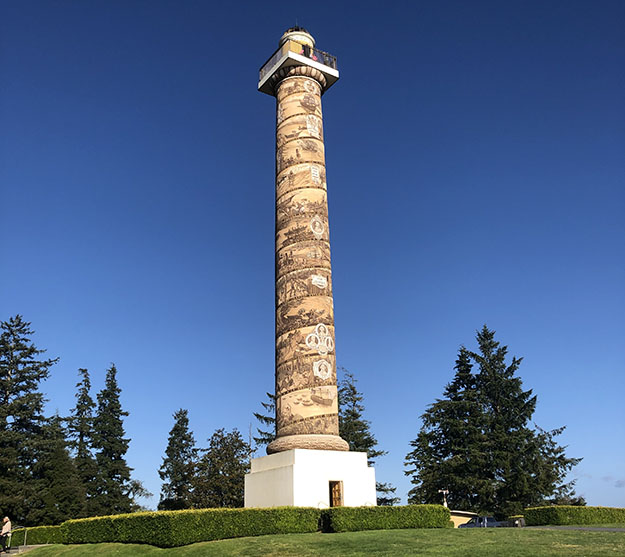 Great Food to Eat
Astoria has cool eateries and dining spots where you can enjoy your seafood delicacies such as sushi, smoked salmon, or a taste of freshly harvested Dungeness crabs from Buoy 10 and the Columbia River estuary.
One interesting spot you should check out right now is the Bowpicker Fish and Chips shop that has an eccentric setting of a fishing boat standing on a patch of grass right across from the Columbia River Maritime Museum.
Great Scenery
Astoria, Oregon has a plethora of fun activities and sites to check out for both adults and kids. You can visit the Fort Stevens State Park and the Peter Irdale Shipwreck, go to the Captain George Flavel House Museum and get more history lessons on Astoria, or even walk the sands of Cannon beach as you tour the lovely restaurants, art galleries and boutiques for a great night out and some souvenir shopping or something.
Couple the sites and night life with the Astoria, Oregon fisheries and fishing scene and you are in for one heck of a Pacific Northwest coast treat.
Why Choose Hook'em Up For Your Next Astoria Fishing Trip
Native Oregonians
Hook'em Up fishing charters has in-house, not out-sourced, captains that are well-vast in the Astoria, Oregon fishing arena. Some of the professional guides also happen to be Portland natives, champion sport fishermen, with unprecedented Astoria, Oregon angling and crabbing knowledge.
And may we add that our captains are certified, Oregon coast guard-insured, and have a track record of chaperoning some of the best Astoria Buoy 10 fishing charters.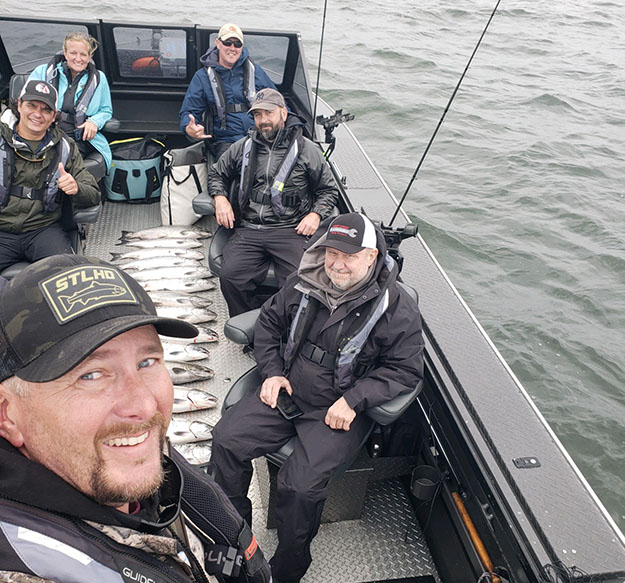 Almost 2 Decades of Experience
We have amassed a wealth of skills deep-dropping crab rings, trolling, and baiting, Salmon, Steelhead, Sturgeon, and other fish types in the Astoria Buoy 10 and other lower Columbia River fisheries.
We are talking about 15 years of hands-on pelagic and river fishing guidig expertise. There's probably no fish roaming the freshwater and brackish waters of Astoria, Oregon or Columbia River weather conditions that we haven't come across.
Full-time Guides
Fishing is our job: we chase fish all-day, every day. And it's very important to book an Astoria Buoy 10 fishing charter with a full-time licensed fishing guide, who stays on top of their game and knows what fish are biting at any given time without the help of forecasts or a fishing calendar.
We've got fishing boats for all sorts of charters and Astoria fishing zones and know exactly where to boat, troll, or anchor to catch the type of fish you are searching for– trust us; we've got some skin in the game.
Multiple Fishing Vessels
What kind of Astoria, Oregon fishing excursion are you planning? Whether you're riding solo, or bringing your family or bunch of fishing buddies, Hook'em Up is the Astoria Buoy 10 fishing charter to work with.
We have two 26 foot custom fishing boats that have all the state of the art bells and whistles for your comfort. The boat also comes with the best fishing gear and tackle on the market.
The Oregon state marine board requires that all fishing boats carry a maximum of 6 clients plus guide, but that shouldn't be a problem if you plan on bringing multiple fishers with you.
Hook'em Up provides private fishing expeditions of any size group by availing two or more fishing boats and multiple boat trips for larger groups.