A Quick Guide to Portland Area Fishing Charters
Portland is one of the top fishing spots in Oregon, with fertile seas and rivers offering vast opportunities for local anglers and tourists alike. Whether you love inshore fishing or deep-sea fishing, there are numerous productive waters inhabited by salmon, snapper, kingfish, and more! It's also the reason why you can find numerous Portland area fishing charters available, ready to take locals and tourists on their next adventure.
But before you head to the area and join Portland area fishing charters, you probably have some questions about what it's like fishing there and joining a charter in the first place. Read on to learn more about Portland area fishing charters and the opportunities you can grab as an angler.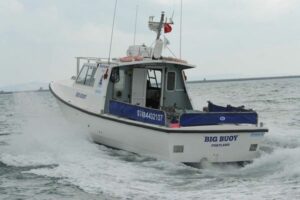 Portland Area Fishing Charters
Portland is home to many fishing charters, and here at Hook 'Em Up, we offer guided services and charters to get you around the area's waters to catch various fish. We work out of a private marina from the Columbia River with fantastic guides ready to share their knowledge and expertise.
Whether you want to go crabbing in Astoria, catch salmon in Columbia River, or sturgeon in Portland or Tillamook, we've got you covered with everything you need. Our fishing charter services and guides have been fishing the waters around the Portland area for decades, with the expertise to take you to the ultimate fishing spots and teach you how to use your fishing gear and techniques.
Most Portland area fishing charters also include gear rental and lunch with their packages, though this will depend on the company. You may ask for additional services as well to see what suits you.
There are different kinds of fishing charters depending on the trip you want to take. It's categorized into two: Inshore and Deep Sea fishing charters. While inshore fishing charters take you within 30 miles from shore, deep sea fishing will take you even further, taking up to 12-16 hours to catch monster gamefish.
Full-day guided trips would be about seven hours, costing $250 per person. Half-day trips are five hours, costing $200 per person. All the trips are with an expert guide ready to cater to what species you're targeting.
Here at Hook 'Em Up Guide Service, you can expect us to cater to the following locations to catch salmon, steelhead trout, sturgeon, Dungeness crabs, and more:
Astoria
Columbia River
Portland
Buoy 10
Wilson River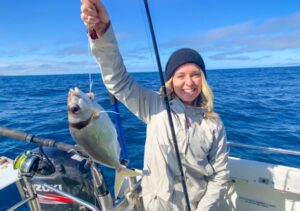 About Fishing in Portland
Now that you're familiar with what Portland area fishing charters are, the next question is: What is fishing like in Portland in the first place?
Here are the things to learn about: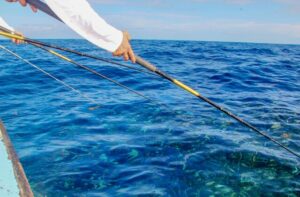 Before Going to Portland Area
Before you begin your fishing adventures, here are the things you must prepare:
Oregon Fishing License
The Oregon fishing license is required for both residents and nonresidents over 12 years old. You must carry your fishing license with you at all times when fishing in Oregon.
Fortunately, purchasing a fishing license is easy. All you need to do is to visit the Oregon Department of Fish and Wildlife's online licensing system. Alternatively, you can purchase your fishing license via mail, fax, or in any Oregon Department of Fish and Wildlife office.
There are various kinds of fishing licenses, depending on age and the type of fishing you'll do. You can check all the options to see what's best for you.
Typically, charter captains have their own charter and fishing licenses, so joiners won't need to carry one.
Fishing Equipment
Whether you're a beginner or seasoned angler, you must have the right equipment to have more success in the waters. You can visit a local shop and talk with local fishing guides and experts who have fished in Portland for years. That way, you have an idea of what setup works best for you based on the fishing season and targeted species.
That said, fishing charters can also provide fishing equipment to use during the trip, which the guides and crew can help you with.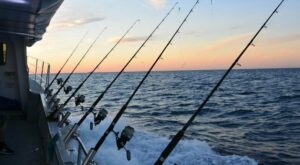 Learn About the Weather
Another thing to consider is the weather and season you plan to visit Portland for fishing. The weather would always change, which is why it's important to be aware of the conditions before you head out to the waters.
The Oregon Department of Fish and Wildlife releases a Recreation Report weekly, which outlines all the latest information on weather conditions in places you can go. They also provide a full report on regulation updates so you can ensure all parts of your fishing trip are legal.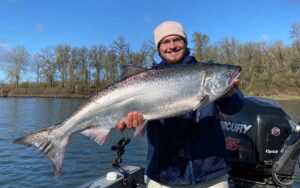 Where to Fish in Portland Area
There are over a hundred fishing spots to visit in Portland, with tons of fish to catch and beautiful sights to take in. Here are some of the most famous ones: 
Bethany Lake Park: The Oregon Department of Fish and Wildlife stocks the lake with trout, so it's perfect if you're targeting this fish species.
Carver Park: This is where Clear Creek meets Clackamas River, perfect for bank fishing. There is also a boat ramp if you'd like to go further.
Clackamette Park: This is located at the confluence of Clackamas and Willamette Rivers where you can take advantage of the many bank fishing opportunities.
Gilbert Boat Ramp: This area provides easy access to the Multnomah Channel, Sturgeon Lake, and Gilbert River. You can launch your boats, kayaks, or canoes, or go dock fishing. 
Lewis and Clark State Recreation Site: This is near the mouth of Columbia River and Sandy River, deemed as one of the best and most beautiful areas to cast your line.
Wrapping It Up
We hope that this guide on Portland area fishing charters helped you out. Now that you are familiar with what fishing in the area is like, why not begin the search for grab people fishing charters and guides to take advantage of the fish inhabited waters? Contact us now and we can talk about our fishing charter services!