Buoy 10 Columbia River Fishing
If you are looking to fish the famous Buoy 10, you will most likely fly in to the Porland Airport (PBX) and then make a two hour drive to Astoria. If you are a Goonies fan like we are, you most likely recognize Astoria, Oregon. It's one of the most charming port cities you will ever visit! There are plenty of great accomodations to choose from in the small town. If you are planning on visiting in an RV, there is a great campsite right next to the marina we fish out of, Hammond Marina.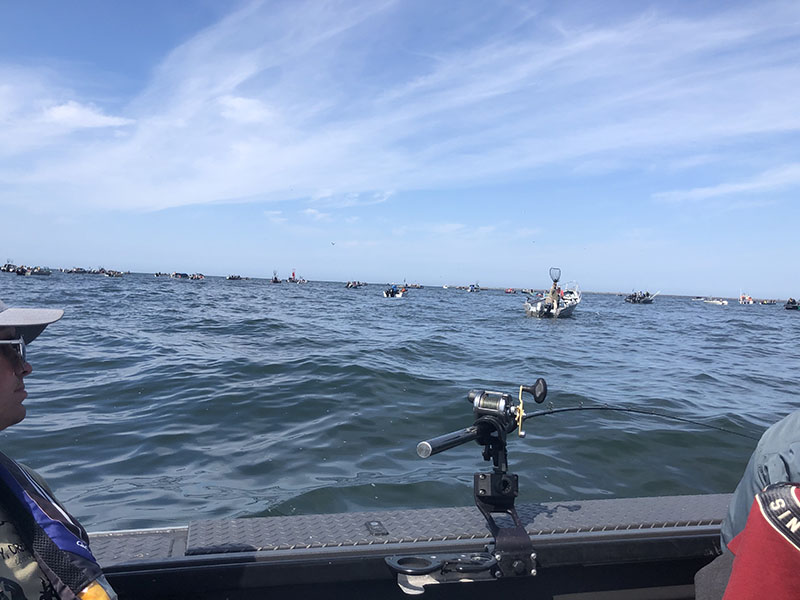 Buoy 10 is one of the most notorious fishing locations in all of Oregon. Buoy 10 is just that, a buoy in the middle of the Columbia River where it lets out into the pacific ocean. It marks the location where the river ends and the ocean starts. Although you can potentially catch a variety of fish neaer Buoy 10, it's particularly popular for salmon fishing, giving anglers the opportunity of a lifetime to limit out on Coho and King Salmon.
Best Time to Fish Buoy 10
The later summer months are the best time to catch Salmon on this part of the Columbia River. We are talking the middle to end of July through Labor day. Buoy 10 is famous for the scores of anglers that are attracted to the river to catch Coho and King Salmon. The reason why this time is the best to catch Salmon is because this is when they start running from the Pacific Ocean up the Columbia River to their spawning grounds. According to the Oregon Department of Fish and Wildlife and from our experience, we you will tend to catch a few more of the larger King (Chinook) Salmon earlier in the season and more Coho Salmon later in the season. Either way, you have a good chance of catching both when you book one of our fishing charters.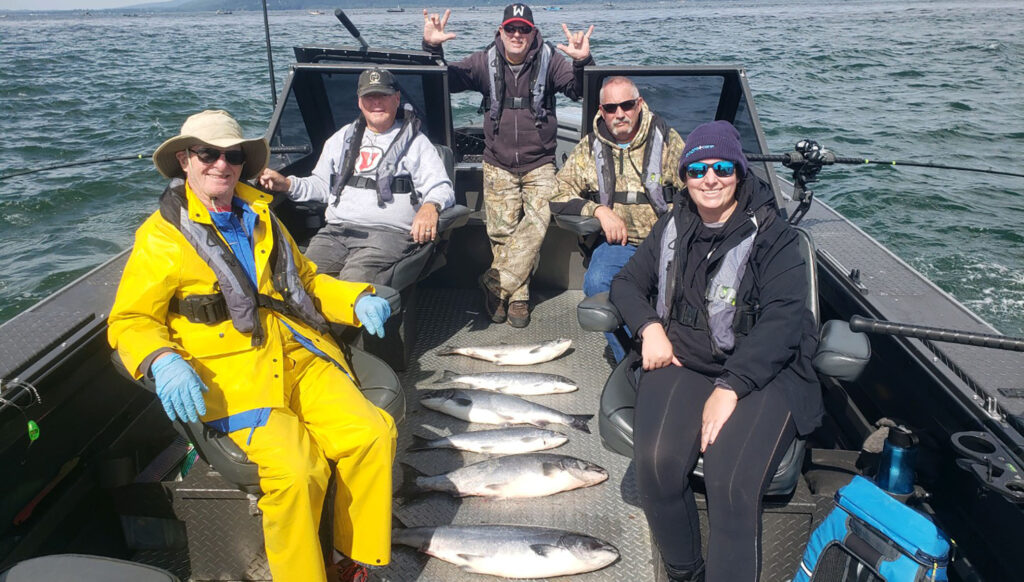 Best Techniques to Catch Salmon at Buoy 10
Believe it or not, what you put in front of the Salmon may not be the most important trick to hooking the fish. Timing can actually be more important than anything! As many experienced ocean fisherman know, watching the tide and knowing where and when to fish can bring more fish in the boat than anything. There is no exception when fishing the Buoy 10 area. Incomming tides tend to bring cooler water and droves of bait fish into the Columbia River. Best fishing tends to be during. the first hour of the high slack tide edgning into the ebbing tide. When you fish on one of our fishing charters, we start early and fish all day, allowing us to take advantage of several tide conditions. Often we find that there will be 30 to 60 minutes of intense action folllowed by a few hours of lesser action. The key is to keep with it and know specifically where to fish during each tide condition.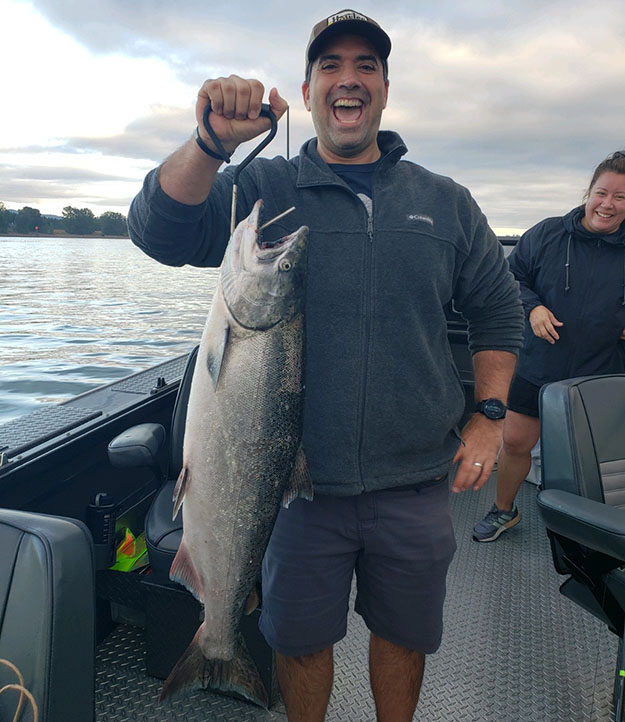 There are almost as many ways to catch Salmon as there are Salmon in the ocean. We have found a few tried and true techniques that we like to use. First of all, it can be good to target the whole water column. In the area, the depth can vary from 15 feet to a hundred feet. We often find ourselves fishing in the 35 to 55 foot range. When trolling, we use depth counters and weighted setups to specifically target three to four depths at the same time. The takle used is generally a rig with lead weights to get down in depth, a dodger, and some kind of lure or bait dragged behind. We find this technique offers consistent results.
Why Choose Hook'em Up Guide Service for your 2022 Buoy 10 Fishing Trip?
The best way to have a successful fishing trip to Buoy 10 is simply letting us take you fishing! We have been fishing these waters for more than 15 years. With two boats running most of the time, this allows us to search out the fish. Once we find the fish with one boat, we contact the other. Our priority is to offer the best experience and fishing we possibly can and would love to have you on our next trip on the Columbia River.