How to Prepare for Your Next Portland Fishing Charter
So, you've already booked your trip to Portland, along with your slot for your chosen fishing charter. You must be brimming with excitement! But that excitement may come with a bit of nervousness, especially if it's your first time.
You're probably wondering what to pack and how to prepare if there are specific things you must know before boarding. That's why we're here to help you out as we share our guide on how to prepare for your next Portland fishing charter. Read on!
How to Prepare for Your Next Portland Fishing Charter
There is a lot to learn when in fishing charters, as well as things to consider when doing so. From the things to prepare to communicate with your charter captain, you'll need to take into account everything for a successful trip.
Here are the things to do and prepare for before your fishing charter: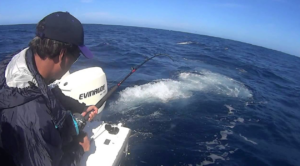 Your Clothes
First off, figure out what to wear! It will depend on the weather conditions for the day, but either way, we recommend bringing and wearing lots of layers when out on the open water. Even during hot days, you can expect large drops in temperature when offshore.
Remember to pack a windbreaker and gloves, even when it's a hot day! You can wear shorts, a lightweight shirt, and non-skid rubber soled shoes during summer. Opt for light-colored clothing to reflect the sun, keeping you cool. Do not wear flip-flops, which can cause you to slip!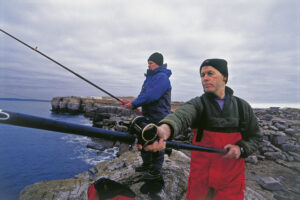 Weather Protection
No matter where you go and what time of the day you'll be out, the sun will always shine, and you'll stay exposed to those UVA/UVB rays, even when you don't feel it. You obviously wouldn't want to suffer from sunburn or hide under share the entire day, or you won't be able to get that fishing action you want.
Nor would you like hiding under the shade when an unexpected downpour comes long. This can really ruin a fishing charter trip. Because of that, make sure you pack the following:
Sunscreen (and make sure you put some on before boarding)
Lip balm to keep your lips hydrated
Hats with brims for shade
Polarized sunglasses because your eyes need protection from the glare of the water
Waterproof jackets and rain pants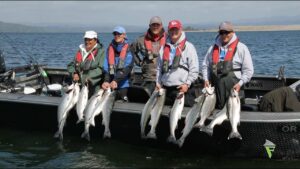 Medication
If you have maintenance medication to take at one point of the day, make sure you bring it with you. Bring your prescription medication in their original prescription bottle and inform both your doctor and charter captain about your condition and plans to join a charter.
Other than that, here are other pharmaceuticals to bring:
Seasickness medication like Bonamine and Dramamine if you are prone to nausea and motion sickness
Bug spray to lessen those nasty bug bites while onboard
Small first aid kit with antiseptic cream and Band-Aids
Hand sanitizer and wet wipes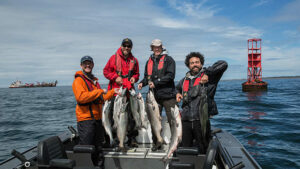 Storage
Where can you put all your clothes, medication, and weather protection? You have to keep it in a sturdy bag! There are also other storage compartments to bring, such as:
Specialist fishing backpack for your fishing equipment and other items.
Collapsible cooler in case the fishing charter does not include it. These will be of good use when bringing fish home and keeping it fresh.
Drinking bottle filled with cold water to stay hydrated.
Waterproof bag to protect your valuables, such as gadgets and documents.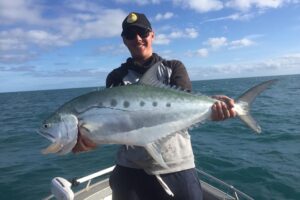 Other Essentials
Of course, there are other essentials like fishing equipment! However, you have the option to go without it, as most fishing charters already provide the equipment for you to use throughout the day. If you're an experienced angler who prefers a specific setup, don't forget to check your equipment and pack it carefully for the trip.
It would be best if you also considered bringing other things to make your trip memorable and comfortable, such as:
Camera and your smartphone to capture the moment
Hand towel for your sweat
Your swimsuit, as you may be able to snorkel or take a dip in the water
Easy-to-eat food to energize you throughout the day, such as sandwiches, energy bars, etc.
Communicate with the Captain
Make sure you communicate with your charter captain when you book your slot for fishing charters. That way, you can establish your expectations and share what you'd like to catch and where to go. There are no promises that charter captains will follow all your requests, especially in group charters, but at least you will both be on the same page.
Besides that, you should prepare a list of questions you'd like to share with the captain, guide, and crew. They can share tips on how to prepare for your next Portland fishing charter as well! If you're a first-timer, you may want to let them know that fact so they can guide you in using equipment and catching your first fish.
Learn the Charter and State Policies
Your charter captain most likely has a fishing license, so you won't have to obtain one; moreover, the captain and crew are already acquainted with Portland's fishing rules and regulations. However, that doesn't mean you should just shrug off the rules and just wait until you're told about what fish you can and cannot keep.
It's best to learn about the state's fishing rules and regulations to avoid breaking any of them, leading to hefty fines on the charter's end. Besides that, make sure you also listen to the captain and crew when they're relaying safety and security policies to prevent any accidents.
Wrapping It Up
We hope that our guide on how to prepare for your next Portland fishing charter helped you out! If you're still searching for fishing charters in Portland, don't hesitate to contact us to avail our services! We'll gladly connect you with the most suitable and experienced guides and charters for your needs.