Portland Fishing Trips with Hook'em Up Guide Service
First of all, thanks for checking out our blog. It has been a long-time coming and we are excited to share our knowledge and expertise with you and your friends. We have been guiding fishing charters in Oregon for more than 14 years. For most of the year we guide charters in the Portland area, but we also head down to Astoria for the famous Buoy 10 fishing salmon fishing season. We also like guiding in the Tillamook Bay.

Father-Son Fishing Guide Service
This season we added a second boat to our fleet. Colby Kesch, Captain Larry's son has started following in his father's footsteps and started guiding. At the ripe age of 20, he is taking all the knowledge he has learned over the years and applying it to his fishing charters. Having two boats on the water gives us the opportunity to try more places and more quickly find the fish.
Our Fishing Charters
Most of our fishing charters are full-day, 8-hour charters. Normally we will start at 6:00 am and fish until around 2:00 pm. We provide all the fishing gear and bait you will need. You simply need to arrive excited for the adventure of a lifetime, dress appropriately, bring snacks, and we will take care of the rest.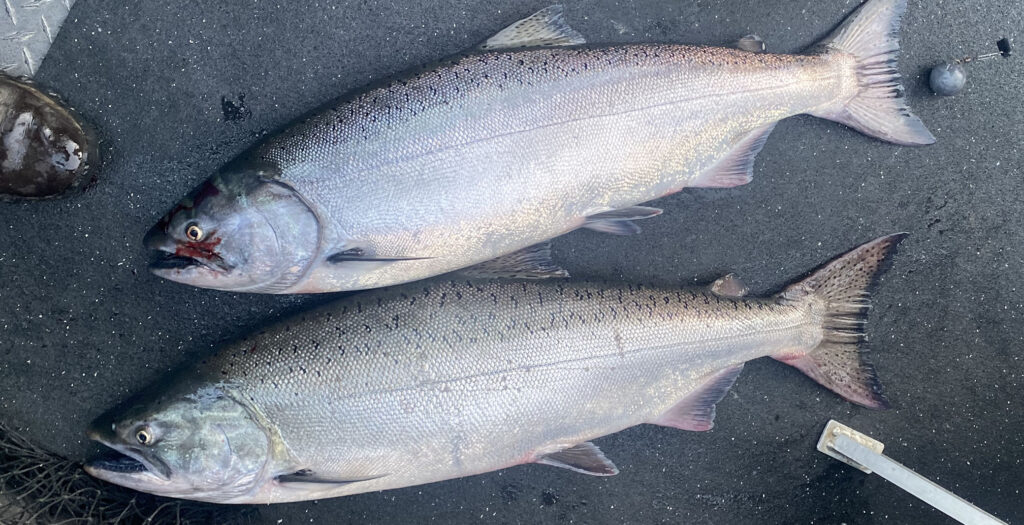 Oregon Fishing Licenses
You will need to have a fishing license that's appropriate for the type of fishing that we will be doing. It will vary depending on which fishing charter you will be on. Simply having an Oregon Department of Fish and Wildlife fishing license isn't enough. Before your charter, Captain Larry will notify you and let you know what licenses are needed. In addition, licenses are available to purchase on the boat for the same price you can purchase them online. If you do purchase a license online, it must be done through the ODFW mobile app. Especially for salmon since each fish must tagged.
Why Choose Hook'em Up Guide Service?
Like we said before. We have been guiding anglers in Oregon for more than 14 years. Our intimate knowledge of the local waters is unmatched. We will do everything in our power to put you on the fish! Our main goal is to offer the experience of a lifetime. At the end of the day we would like your party to enjoy the company and most importantly, catch all the fish possible. We look forward to guiding you and your friends on your next fishing trip.