Portland Oregon Fishing Guide Services
When you first think about fishing, Portland might not be the first location that will come to mind. Unknown to many, Portland is one of the hidden gems and highly regarded as a fishing mecca. Portland is in the perfect central locations for many of the most fantastic fishing waters in the United States. In addition to a great central location, it's home to many of the best fishing guides you can find anywhere. Keep reading to learn about great fishing waters within both minutes and a short drive from Portland and the amazing fish you can expect to catch with your fishing guide.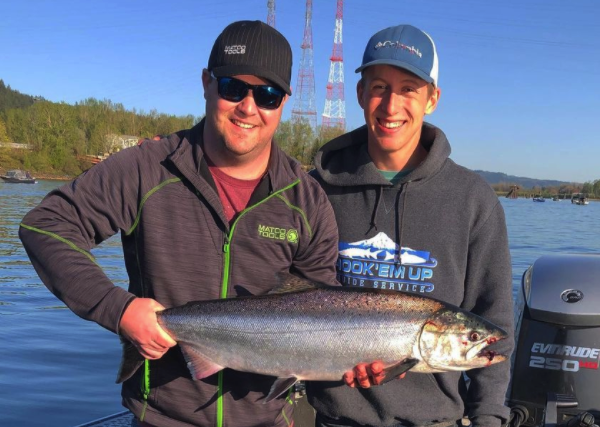 Amazing Fishing Locations Near Portland
There are multiple fishing waters to choose from that are close to Portland and many others that just require a short drive. The most common fish caught in the waters around Portland include Sturgeon, Salmon, Steelhead Trout, and Walleye. To learn more about the specific locations, keep on reading. To beome up-to-date about fishing seasons and regulations in these fishing waters you can check out the Oregon Department of Fishing and Wildlife website.
Willamette River Fishing Charters
The Willamette River is the waterway that runs right down the middle of Portland and is a tributary to the mighty Columbia River. It's close proximity to the Portland area makes it a fantastic fishing locations for those looking to go fishing for a single day. Sturgeon are the most common fish that can be caught year round on the Willamette River, but it's also common to find salmon, steelhead trout and walleye depending on the season. If you have a question about what fish are currently running on the Willamette, feel free to contact us to find out.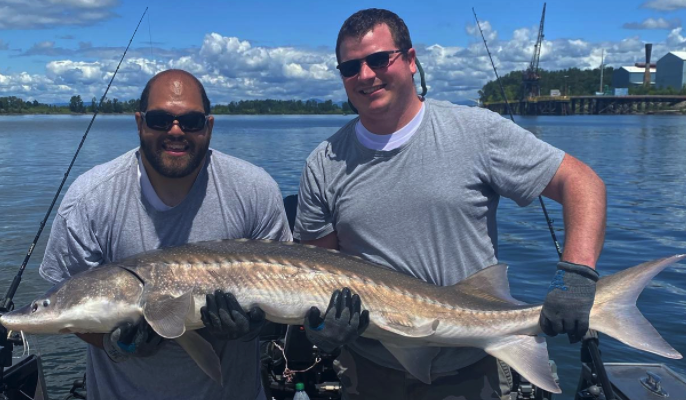 Columbia River Fishing Charters
Aside from deep sea fishing on the coast, the Columbia River is probably the most popular fishing water in all of Oregon. In fact, it runs for over 300 miles in Oregon and makes up the boarder with Washington. The benefit to a guided fishing service in Portland is that there is a large stretch of the Columbia river that's nearby to fish. The fish that can be caught on the Columbia River are similar to the Willamette. The biggest difference is that the Columbia is more well-known for Coho and King salmon fishing in addition to the amazing Sturgeon fishing. You may be amazed to know that giant Sturgeon over 12′ in length have been caught within 30 minutes of downtown Portland. Hook'em Up is special because we run most of our Columbia River fishing charters out of a marina that is only 10-15 minutes away from the Portland Airport (PDX)

Astoria Oregon Fishing Charters (Buoy 10)
Perhaps Astoria warrants its own blog and I'm sure we will go into detail about the fishing paradise. The reason it's included here is because it's a short 1.5 hour drive from Portland and the drive itself is a treat because of the beautiful scenery of the highway the follows along the Columbia River. Aside from Alaska, Astoria, also known at Buoy 10, is known for being one of the best Salmon fishing locations in the world. From late July until Labor Day, Coho and King Salmon are thick as they make their way up the Columbia River to spawn. The site of hundreds of boats in the inlet looking to catch fish is a once-in-a-lifetime sight to see. In addition to fantastic Salmon fishing, Astoria is an amazing spot to catch Dungeness crab. Dungeness Crab fishing charters run later in the season with the best times being October to January.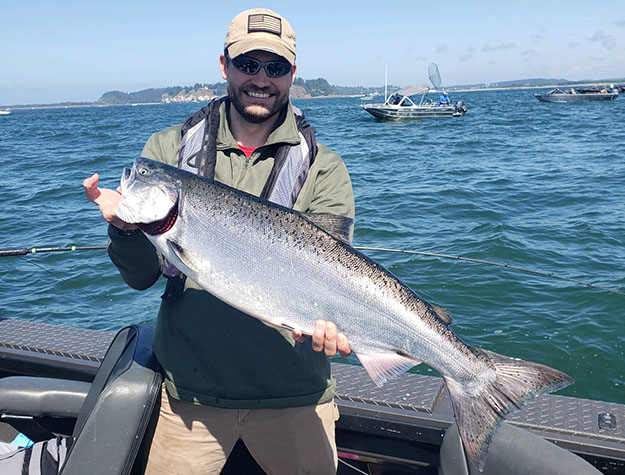 Choosing an Amazing Portland Fishing Guide
With so many locations to choose from and hundreds of guides, how to you choose the best on for you and your group? Now, takes this with a grain of salt because we are obviously very bias. Portland has a group of grade-A, top-quality fishing guides that run fishing trips as their full-time job they are fully devoted to. This is the case with Hooke'm Up fishing charters. We fish year round and this is the only thing we do. If you reach out to one of these charters, and they are booked the day you are looking to fish, they will be glad to offer suggestions for other amazing charters in the area. This ensures you get the trip of a lifetime with an experienced fishing captain. Checking out testimonials and reviews before your trip will also be beneficial and ensure you get a guide that will show you a good time and put you and your group on the fish.
To enquire about availability you can give us a call or fill out the form on this page. TIGHT LINES EVERYONE!