Fish to Catch in the Tillamook Bay
When in the Portland area, one of the most popular activities to do is fishing, and for many great reasons. With so many spectacular fishing spots in the state, there will always be something for every type of angler. Whether you're fishing inshore, nearshore, or in the deep waters, you can enjoy reeling in small and big catches alike.
But this might leave you wondering – What are the fish to catch in Tillamook Bay anyway? Read on for our guide so you know what to expect.
Fish to Catch in the Tillamook Bay
If you aren't familiar with Tillamook Bay yet, this is a 13-square-mile body of water that's known for its excellent Chinook salmon runs. However, it's also known for the many other fishing opportunities, which we'll tackle below.
There are multiple bank access points with various well-maintained boat launches, making the area suitable for any angler all year long. Here are some of the facilities to consider:
Memaloose Boat Ramp – This is great for angling the upper bay, with some bank angling available.
Garibaldi Boat Basin – This is great for those who want to catch crabs as the marina has a boat or crab pot rentals. It's a great boat launch when fishing the Ghost Hole, lower bay, and the ocean.
Barview County Park and North Jetty Access – This provides both beat and jetty access.
Tillamook River Tidewater Access – This is an ADA-accessible fishing platform on Netart's Hwy (Hwy 131)
There are other launch sites you can look into from the Tillamook Bay Water Trail Guidebook.
So, you know where to launch from the area. What about the kind of fish to catch in Tillamook Bay? Here they are!
Chinook Salmon
You can catch Chinook salmon in the bay from April to July, but we recommend fishing for this species from May to June. Do note that bank fishing areas are limited to a few pull-outs along the Bay Ocean Rd on the upper bay and the ADA-accessible boat launch.
Come fall, Chinook salmon will start arriving in late August, with October being the best month. You can find bank access along the Tillamook River on Fraser Rd, where you can pay a fee for the Trask River tidewater.
As for bank fishing techniques and gear, you can use bobber, bait, and spinners in Upper Tillamook Bay.
Other than Chinook salmon, you can also catch other species such as the coho, sockeye, and chum salmon. With the thriving population of salmon, you're going to enjoy catching these fish throughout the year. We highly recommend using popular techniques like trolling, spinning, or even fly fishing.
Steelhead Trout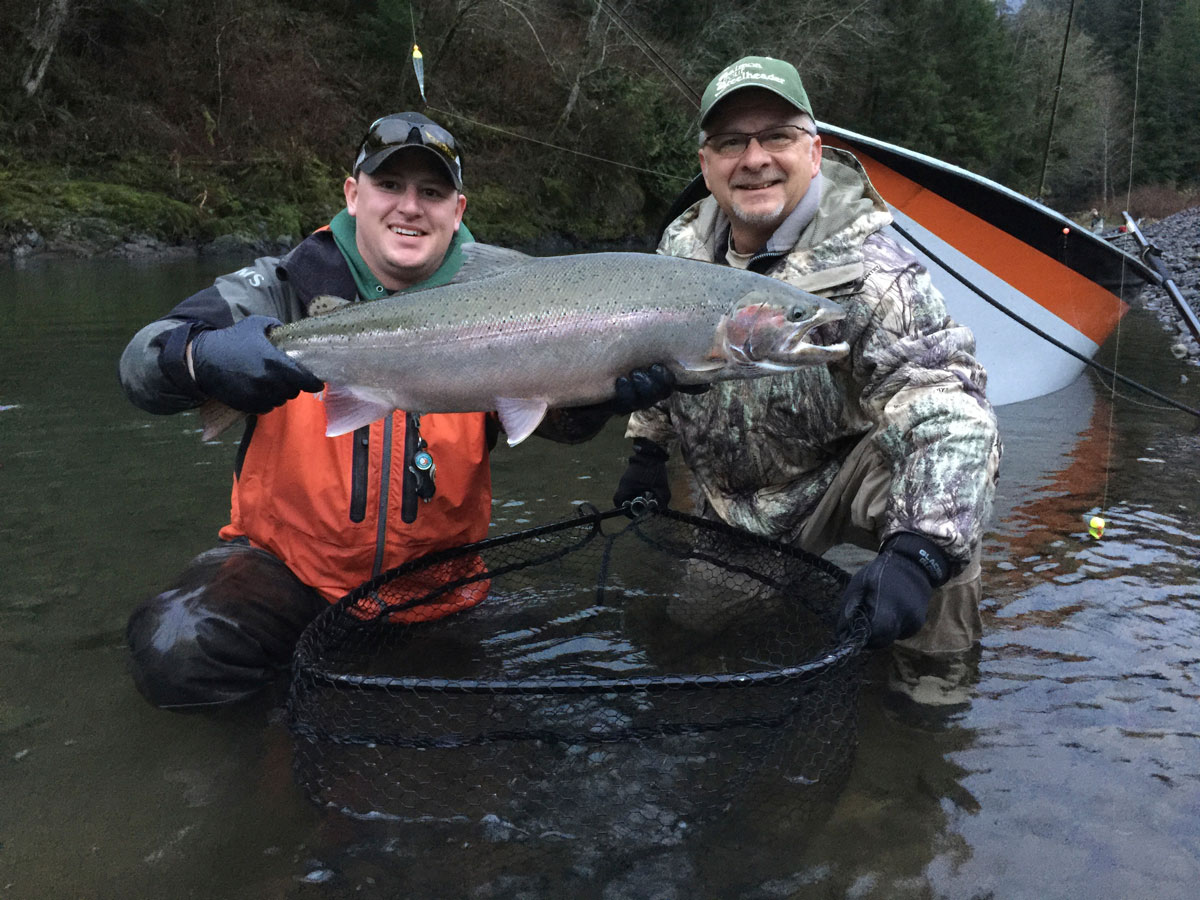 Steelhead trout is one of the most popular species in Tillamook Bay for locals and visitors alike. They are also known as cutthroat trout, known as a unique species with delicious meat you can grill. Thanks to their meat and the excitement it brings when reeling one in, they are one of the top sport fish species in North America.
They are fun to catch in Tillamook Bay since they are available most of the year, particularly in early spring or from July to October. If you are targeting steelhead trout in Tillamook Bay, we recommend fly fishing or a deep-water fishing technique. Both baits and artificial lures are effective in catching this tasty fish.
White Sturgeon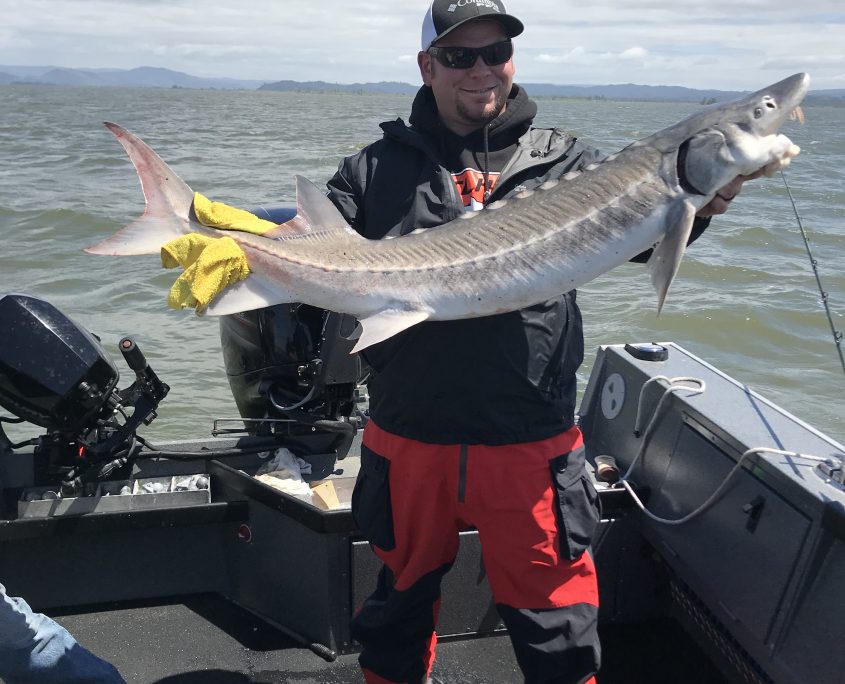 Sturgeon is one of the oldest living bony fish on this planet, existing for over 200 million years. They are known as dinosaur fish and aquatic giants, with some of them growing anywhere between 7-12 feet, and weighing up to a whopping 800 pounds on average.
While anglers all over the world try to find sturgeon to reel in, take note that these are strictly catch-and-release fish to preserve their population.
Come winter and early spring, you can catch sturgeon from boats in the many shallow channels from Tillamook Bay. From late spring to summer, you can fish from Fraser Rf or the ADA-accessible platform from the lower Tillamook River. As for the baits to use, we recommend using mud or sand shrimp.
Dungeness Crabs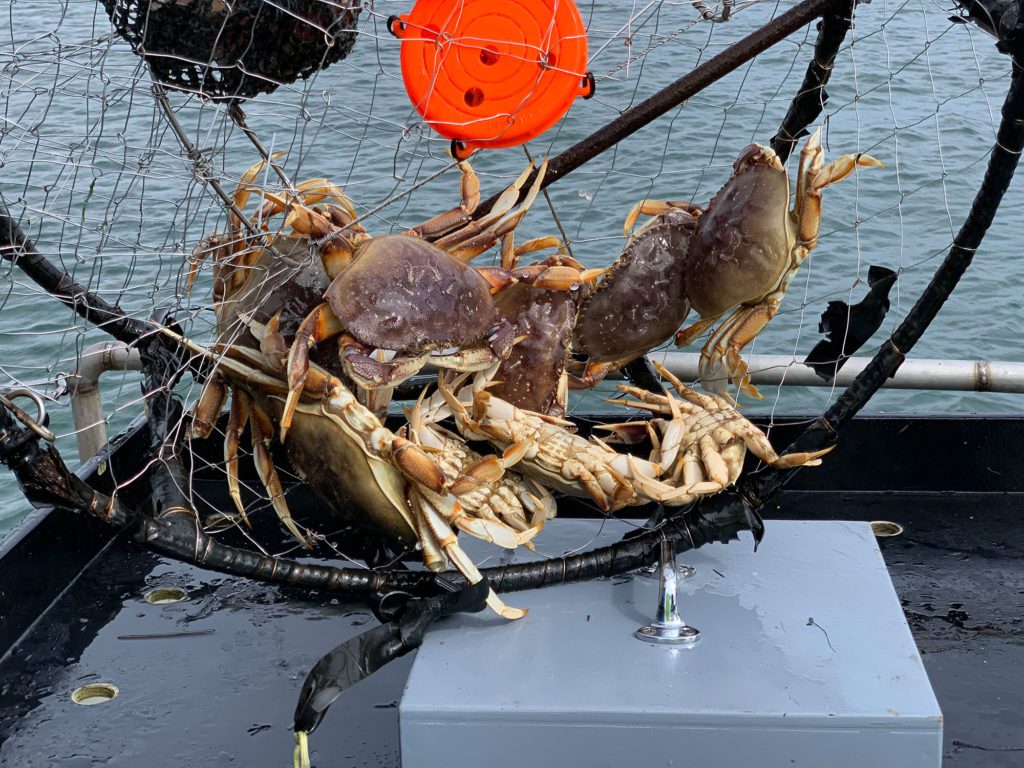 Dungeness crabs are one of the most popular seafood in the USA thanks to their delicious meat. You can catch your own crabs at Tillamook Bay or join fishing charters to take you out to the bay!
What's great about crabbing in Tillamook Bay is because of the area's favorable breeding and reproducing grounds for Dungeness crabs. They also have ideal feeding grounds, so you're assured a ton of crabs that you can readily catch.
Crabbing is most productive in the lower 1/3 of Tillamook Bay. We suggest crabbing in the old coast guard pier or the public dock from the southern end of the Garibaldi boat basin parking lot when you have no boat.
Use baited rings or crab pots, which you can rent from the Garibaldi Marina. You can also use baited snares and fishing rods to catch crabs from piers and jetties.
Besides fish and crabs, you can also go clamming, with many bay clams ready to be caught year-round. However, the best catches come wintertime, when you can find cockles, gapers, and softshell clams. You can also expect other species like lingcod, cabezon, or rockfish around the bay as well.
Wrapping It Up
Before you head out to Tillamook Bay for a fun day fishing, you must know what species you can target. From salmon to crabs, you're always assured a fun time in the bay all year long.
Now, the next step is planning your trip according to the target species you want to catch! Make sure you also book a fishing charter while you're at it to increase your chances of reeling in one of the fish species above. Contact us now and we can contact you with some of the best charter captains and guides.