Fish to Catch in Portland Oregon
Fishing is one of the more popular pastimes in Oregon, with locals and tourists getting in on the action with so many fish to catch in Portland. There are many spots around Portland, from inshore to offshore, freshwater to saltwater, where you can get the best and most diverse fishing action.
For beginner anglers or those who haven't fished in the area before, you may be wondering what to expect. Read on as we share the fish to catch in Portland Oregon!
Fish to Catch in Portland Oregon
Fish is what helped shape Portland's ecosystems for thousands of years. In Portland's rivers and streams, you can find at least 40 species of fish, with over half of them native to the Pacific Northwest. Head offshore to saltwater and you can find even more species ready to be caught!
Take a look at the most popular fish to catch in Portland Oregon below:
Salmon
There are so many things to love about Portland when it comes to salmon fishing, especially because there are so many rivers that converge in one place, making there a lot of spots to choose from. The Columbia River, Willamette River, Sandy River, and Clackamas River are some of the most popular fishing spots when targeting salmon.
Portland waters support four species under the salmon family, which are:
The most popular species you'll find in Portland waters are the coho and chinook salmon. Summer chinook salmon can grow pretty large, weighing anywhere between 10-30 pounds. Fall chinook would weigh between 15-50 pounds. Coho salmon would be smaller come fall, weighing between 5-25 pounds.
The more common fishing techniques used to catch salmon are trolling and using herring bait.
Steelhead Trout
Steelhead trout is an anadromous coastal rainbow trout native to North America, and you can find a lot of them in Portland. These species spawn in freshwater and then make their way to the ocean after hatching. The best times to target trout are during the summer or winter when they spawn.
What's great about steelhead trout in Portland are the sizes, quantities, and fishing opportunities the waters offer. You can get some of the best trout fishing action in Portland, with many spots to catch them. You can land large fish in equally large quantities, so you likely won't go home empty-handed.
If you plan to catch steelhead trout, we recommend planning your trip anytime between April to July. Head to the lower Willamette River for great runs, though you'll find many other Portland fishing spots to score quite a few trout. There are various fishing methods you can use for trout, such as drift fishing, bobber, and jobs, plunking, and fly fishing.
Moreover, trout is a delicious fish to bring home. Diners love trout because of its milder and less fatty flavor compared to salmon. Besides steelhead trout, you can also find cutthroat trout in Portland.
Sturgeon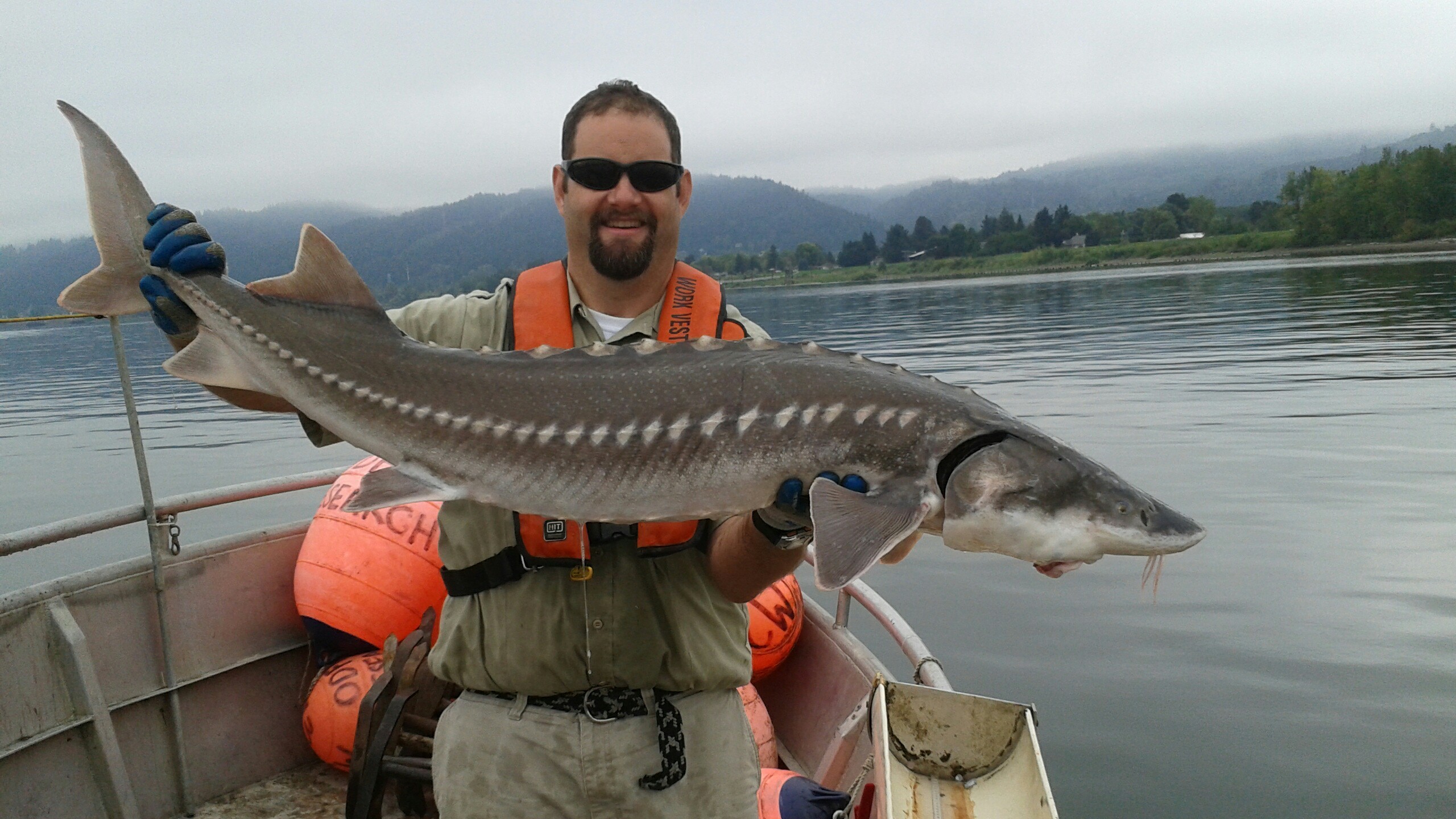 Sturgeon is the largest freshwater fish around North America, and Portland tourists or locals can catch these with ease. The area is known for its excellent sturgeon fishing opportunities! This species is always well stocked and the waters produce some of the biggest fish any angler will enjoy.
If you want to target sturgeon, we recommend going from May to July or October to November, which is considered high sturgeon fishing season. Regardless of when you go, do note that the ODFW has a keeper sturgeon season in January for fish between 38-54 inches long. You may only keep a total of two sturgeon every year. This means sturgeon are catch-and-release fish to protect them from overfishing since their population may dwindle.
There are numerous spots to fish sturgeon when in Portland, such as the Columbia River, Willamette River, and Multnomah Channel.
Dungeness Crab
Dungeness crabs aren't considered fish but they are one of the more popular species to catch in Portland! That's because they offer such juicy, delicious meat when harvested in the right season.
The typical size of Dungeness crabs is about 20 centimeters. These crabs can be found in Portland and Astoria, with the best time to fish for them being in the morning or before sunset. You can catch them using crab pots, hook and line, or bait them with chicken and turkey legs.
Note that you will need a separate shellfish license to legally harvest Dungeness crabs. You can check with a fishing charter or guide to see if it's possible to catch Dungeness crabs in Portland, as it depends on the season and any restrictions placed.
Join Fishing Charters
Now that you know all about the most popular fish to catch in Portland Oregon, the next step is finding a reputable fishing charter to join or book.
But why go for a Portland fishing charter? Isn't it more cost-effective going by yourself? That may be at first, but with a fishing charter, you get more than just a boat and captain. You get professional service, paying for the knowledge, skills, expertise, and equipment the captain can offer to increase your chances of catching a lot of fish throughout the day.
The charter captain is equipped with the knowledge to navigate the waters, finding the best fishing spots to take you where there are more fish to catch. Moreover, the crew can teach you techniques and help reel in fish whenever you need help!
Wrapping It Up
Who knew there were so many fish to catch in Portland Oregon? We hope you now know a bit more of what to expect when you're heading to the area to grab all the fishing opportunities you can.
To increase your chances of catching more fish, why not book or join a fishing charter? Contact us now to avail of our services, we offer reputable charters for any kind of fishing trip!