The Ultimate Guide to Columbia River Sturgeon Fishing 2022
When you're in the Columbia River, you'll find that there are numerous fish species you can catch all year long. One particular species that are so popular among anglers in the area is sturgeon, and for great reasons. Columbia River offers some of the best sturgeon fishing around the West Coast, with the highest numbers of this species in the giant river.
This might leave you wondering: How do I have a successful day when Columbia River sturgeon fishing? We've got you covered with what you need to know about sturgeon and how to catch them in the Columbia River. Read on!
The Ultimate Guide to Columbia River Sturgeon Fishing 2022
Here are a few factors to consider and tips to follow when you're planning to go Columbia River sturgeon fishing this year.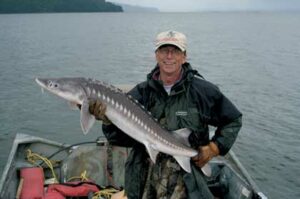 About Sturgeon
Did you know that the Columbia River takes its pride in having the largest population of white sturgeon worldwide? Fishing charters can average between 30-60 sturgeon daily, so you've got a ton of action.
Do note the rules and regulations of sturgeon, which are catch-and-release fish. However, you may keep sturgeon measuring a legal size of 44-54 inches from the nose to the V of the tail. These fish usually weigh between 20-40 pounds.
Sturgeon can live up to 150 years old and measure up to 15 feet long, so they are absolute monsters in the water! In fact, anglers know this species to be "Monsters of the River," the biggest freshwater fish all over the world.
Trophy sturgeon can measure 7-12 feet long and weigh anywhere between 150-1,000 pounds. When you fight huge sturgeon, it can take over 100 yards of line out within seconds! They can also take more than an hour to get sturgeon to the boat, so it's best that you get some help from charters or guides, as well as build your strength and skills.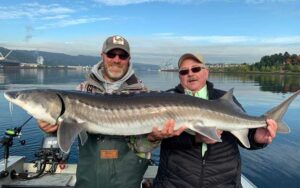 When to Catch Sturgeon
You can expect to catch sturgeon weighing over a whopping 100 pounds between April to September. However, when you go will depend on the official announcement of the sturgeon fishing season.
This summer 2022, the Columbia River Keeper Sturgeon season runs from May 11 to June 4, on Wednesdays and Saturdays. This is a short season that would have fishing charters booked completely since this is the only time they can retain sturgeon.
As for trophy sturgeon, the season opens between May to July, with a typical fish of this class weighing around 125 pounds. Expect these fish to have mouths the size of hubcaps that can pull hard. You'll want to use fighting belts and serious gear to take on trophy sturgeon that big.
As for the Columbia River estuary in Astoria, you can fish from June to July, where you can get some of the best sturgeon fishing opportunities. You have the chance to catch fish in as shallow as five feet of water since sturgeon will move up on flats looking for clams. You can expect fish measuring between 6-8 feet long.
The Bonneville dam isn't the most popular area, but it can be productive from October to November when the sturgeon hasn't seen bait for months because of the summer closure. As such, they will go to the area to feed on dying salmon and other fish.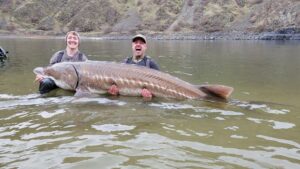 Where to Catch Sturgeon
The Columbia River estuary would widen out near pots of Astoria, Hammond, and Warrenton, then enter the Pacific Ocean. Sturgeon would come and go from Columbia, usually on the way to feed in estuaries around the coast.
Sturgeon's favorite feeding grounds are within the Columbia estuary itself, where there are a lot of worms, shrimp, and baitfish, among other food sources sturgeon love.
There are also other spots to catch sturgeon within the Columbia estuary, such as:
The Columbia River Gorge offers excellent sturgeon fishing opportunities, known for large white sturgeon as shad stream up the river come to alter spring to early Summer.
Rooster Rock is a great area as well, though they are subject to seasonal closures for anglers.
Near the viewpoint below Multnomah Falls
Columbia River has keeper fisheries in pools behind the hydroelectric dams
Upper Columbia River above the Grand Coulee Dam, where Washington and British Columbia began hatchery programs for sturgeon
The WDFS recently opened the Columbia River from China Bend to the Canadian border in September, which is also a productive area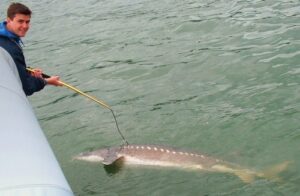 Quick Tips on Catching Sturgeon
Here are a few tips to increase your chances of success when Columbia River sturgeon fishing:
Huge sturgeon would bite different kinds of baits. We recommend using sand shrimp, squid, anchovies, shad, or smelt.
A sturgeon's favorite feeding ground is within the estuary, where there are a lot of baitfish, worms, and shrimp, among many other food sources they feed on.
Find holes around flats and fish during smaller tides.
Remember that sturgeon are strong fish, so you must use solid fishing equipment from the rods to the line. We suggest using muskie gear and the strongest freshwater equipment you own, and to expect a fight that can last for an hour or more. Heavy gear allows you to pull in sturgeon quicker, putting less stress on the fish to help with releasing.
When sturgeon will bite, they will not hammer. It would just be a subtle bite with some swimming weight or taps. There's no need for hard hook sets and circle hooks. You can just tighten the line through reeling and move your rod away from the fish.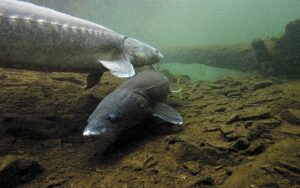 Wrapping It Up
We hope that we helped you with our guide on Columbia River sturgeon fishing! The next thing you should do for more chances of success is by joining a fishing charter that offers services in the area.
Contact us now to learn about what we offer and avail a fishing charter or guide for your next trip!