Coho Salmon Fishing Near Portland Oregon
Anglers who are heading to Portland are likely to target coho salmon. Also known as silvers, coho salmon are acrobatic fighting fish, making them a huge hit among Oregon anglers. For those living outside Oregon, you're likely wondering about how to go Coho salmon fishing near Portland Oregon.
Take a look at our guide on Coho salmon fishing near Portland Oregon.
About Coho Salmon Fishing Near Portland Oregon
Most of Oregon's coho salmon catch come from coastal bays and the ocean. However, they can also come right to our front doors when in Portland. There are many fisheries about an hour from Portland.
When fishing in freshwater, coho salmon are known for serious cases of lockjaw, making them difficult to catch. But when you use the right fishing technique and know how to catch them just right, expect silvers to be aggressive biters during short periods.
The best freshwater coho salmon fishing near Portland Oregon would usually immediately follow after decent rainfall will get silvers racing up streams. The success of fishing in smaller streams will depend on the rainfall, as well as getting to the river itself since it would substantially rise out of the early fall lows.
Bank anglers would cast various lures like spoons, jigs, and spinners. They may also use baits like cured salmon roe clusters. As for boat anglers, they troll or fish at anchor using spinners, wobbling plugs, or other lures and bait.
If you're looking for the best spots to go coho salmon fishing near Portland Oregon, check out these recommendations:
Sandy River
If you're looking for local silvers, then you'll want to head to the river near Gresham. They would usually arrive in good numbers in September, with the fishing being excellent from then until October.
Silvers would race up through the lower rivers near Gresham and Troutdale. They will slow down when nearing the hatchery at Cedar Creek, which isn't far from Sandy.
Bank anglers can walk in and find back access below the hatchery deadline. Be wary, as there will be a lot of people during good fishing days.
You can also head up to other upper rivers like Dodge Park. They offer great coho salmon fishing opportunities and aren't usually as crowded. That said, a good salmon run will almost always bring out anglers to the most accessible areas.
For boat anglers, you can focus on going farther downriver. But we don't highly recommend Sandy as one of the best spots when fishing from a boat.
Besides coho salmon, you can catch a lot of steelheads and spring Chinook salmon n Sandy River.
Clackamas River and Eagle Creek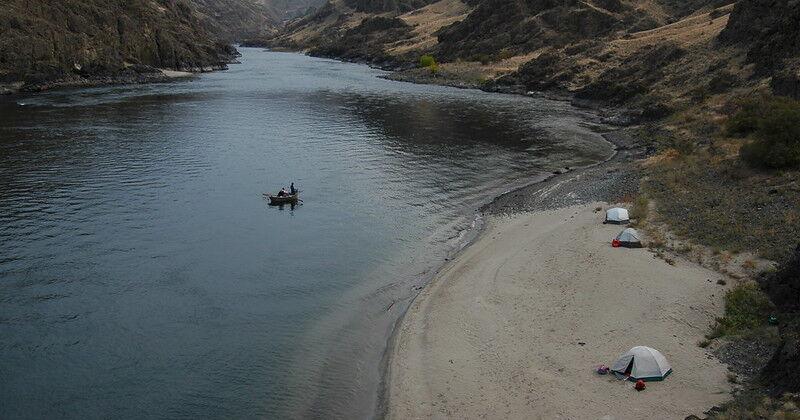 The Clackamas River is also known as the "Clack," with its primary fishing tributary offering a lot of coho salmon.
On its bigger river area, many silvers are caught in the lower part, from the mouth of the Willamette River upstream to Carver Bridge. This is located off Highway 224, a mile or so from its split with Highway 212.
If you are a drift boat angler, you can gain access to many fishing opportunities by launching above the bridge from the south side. You can also start father downstream from Riverside Park, which is the north side.
Boaters who plan to fish the lower river can take it out downstream at Clackamette Park near Willamette or Riverside. If the ramp isn't open, you can go a bit farther into the Willamette River and take out from the Meldrum Bar.
As for bank anglers, there is public access to the Clack at the parks mentioned, such as the High Rocks City Park in Gladstone. There are also other locations available. Usually, most of the silvers run come into the Clack from September to October.
You can also head to Eagle Creek, which would have a short but productive coho salmon fishery. Coho salmon would wait it out in the larger Clack or Willamette rivers until enough rainfalls allow them to head to Eagle Creek, where they head to the hatchery.
Until fall rains start, which is usually in October, Eagle Creek is usually a trickle. There are only a few salmon attempting migrations until the weather improves. Moreover, public bank access is limited. However, you can find some areas to get you to the stream, such as:
Eagle Fern Park
Fish ladder around a half mile below Eagle Fern Park
You can also find fishing access upstream and below the hatchery deadline. You can access these via hiking trails.
Columbia River
While this area is primarily for boat anglers, the Columbia River is still a productive area, particularly when upstream in the Bonneville Pool. Head to the mouths of the Wind and Little White Salmon rivers from the Washington side!
There is one popular pool at the mouth of Little White Salmon, which is Drano Lake. These areas will have a lot of silvers in September, but October is the best time to head to the area, particularly above Bonneville Dam. The best chance of catching silvers in the Columbia River is in September.
If you want to drive a bit further beyond Portland, there are a lot of coho salmon opportunities in Buoy 10 near Astoria from August to early September.
Wrapping It Up
When you plan to go coho salmon fishing near Portland Oregon, the first thing you must consider is where to fish. Fortunately, there are numerous hot fishing spots to head to within an hour's distance of Portland.
Try to visit any of these spots today and consider booking a fishing guide or charter to take you to these waters. They have the knowledge and experience to navigate the waters and take you to where you can have better chances of reeling in silvers. Contact us now to learn more about our services!