Your Ultimate Guide to Fishing in Columbia River
The Columbia River, stretching over 1,200 miles from the Canadian Rockies to the Pacific Ocean, is not only one of the longest rivers in North America but also a prime destination for fishing enthusiasts. With its diverse aquatic ecosystem and an abundance of fish species, it offers a unique and rewarding experience for anglers of all levels. In this guide, we'll cover everything you need to know for a successful and enjoyable fishing trip along the Columbia River.
Understanding the Columbia River Ecosystem
Before you embark on your fishing adventure, it's crucial to familiarize yourself with the river's ecosystem. The Columbia River is home to a wide range of fish species, including salmon, steelhead, sturgeon, trout, bass, and more. Each species has its own preferred habitat and behavior, so understanding their habits will greatly increase your chances of a successful catch.
Your Ultimate Guide to Fishing in Columbia River
Popular Fish Species in Columbia River
Salmon: Chinook, Coho, Sockeye, and Pink salmon are abundant in the Columbia River. These prized species attract anglers from around the world.
Steelhead: Known for their tenacity and challenging fight, steelhead are a favorite among experienced anglers. They can be found in both the mainstem and tributaries.
Sturgeon: The Columbia River is renowned for its prehistoric sturgeon, some of which can grow to astonishing sizes. Catch-and-release practices are typically encouraged for sturgeon due to their slow growth rates.
Trout: Rainbow and Cutthroat trout are prevalent in the upper reaches of the river and its tributaries.
Bass: Smallmouth and largemouth bass are popular in the warmer months, especially in the lower Columbia River.
Best Times to Fish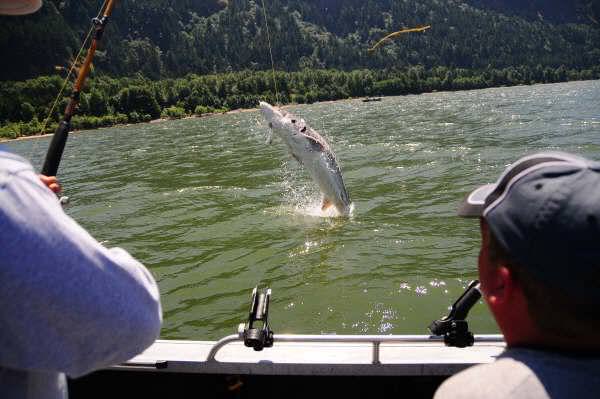 The Columbia River offers year-round fishing opportunities, but certain times of the year are better for specific species:
– Spring: This is prime time for salmon and steelhead, as they make their way upriver to spawn. March to May is the optimal period for these species.
– Summer: Summer months are great for warm-water species like bass. Sturgeon and walleye fishing in Columbia River can also be excellent during this season.
– Fall: Fall sees another surge of salmon and steelhead as they return to the river from the ocean. Late September to November is a fantastic time for these species.
– Winter: While colder, winter can be a rewarding time for dedicated anglers targeting steelhead.
Licensing and Regulations
Before you cast your line, be sure to obtain the appropriate fishing license and check the latest regulations. These can change seasonally, so it's crucial to stay up-to-date to ensure a legal and sustainable fishing experience.
Essential Gear
The right gear can make all the difference in your fishing experience. Here's a basic list to get you started:
– Fishing Rods and Reels: Choose rods and reels appropriate for the species you're targeting.
– Tackle and Bait: Stock up on a variety of hooks, sinkers, lures, and live bait options.
– Fishing Line: Different species may require different strengths and types of fishing line.
– Safety Gear: Life jackets, first aid kits, and other safety equipment should always be on hand.
– Fishing Apparel: Dress appropriately for the weather and consider wearing waders or fishing boots.
Local Knowledge and Guides
Consider hiring a local fishing guide, especially if you're new to the area. They possess invaluable knowledge about the best spots, techniques, and regulations, ensuring a successful and enjoyable trip.
Exploring Tributaries and Hotspots
While the Columbia River itself offers exceptional fishing, don't overlook the tributaries and key hotspots. Areas like the Snake River, Willamette River, and the Columbia's estuary are known for their unique fishing experiences. Each locale has its own seasonal variations and target species, providing ample opportunities for diverse catches.
Snake River
Target Species:
– Smallmouth Bass: The Snake River is renowned for its excellent smallmouth bass fishing. Look for rocky areas and structures where these species tend to congregate.
– Sturgeon: The lower stretches of the Snake River, particularly around Hells Canyon, offer opportunities for catching sturgeon. Remember to adhere to catch-and-release regulations for conservation purposes.
Techniques:
– Bass Fishing: Try using soft plastics, crankbaits, and topwater lures for smallmouth bass. Focus on areas with moderate current and rocky cover.
– Sturgeon Fishing: Use heavy tackle and large baits like smelt or shad for sturgeon. Bottom fishing with sturgeon rigs is a common technique.
Willamette River

Target Species:
– Spring Chinook Salmon: The Willamette River is known for its spring Chinook salmon run. Prime fishing spots include the area around Portland and upriver towards Oregon City.
– Sturgeon: The lower section of the Willamette River offers opportunities for catching sturgeon. Be sure to check regulations for size and retention limits.
Techniques:
– Salmon Fishing: Drift fishing with bait, back-trolling with plugs, and using spinners or spoons are effective techniques for spring Chinook salmon.
– Sturgeon Fishing: Anchor in deep holes or channels and use heavy tackle with sturgeon rigs baited with smelt or other natural baits.
Columbia River Estuary
Target Species:
– Sturgeon: The estuary is a hotspot for sturgeon fishing. This area provides critical habitat for juvenile sturgeon.
– Salmon: During their migration, the estuary is an important stop for salmon, making it a prime spot for fishing.
Techniques:
– Sturgeon Fishing: Anchor in channels and use sturgeon rigs with natural baits. Catch-and-release practices are crucial for conservation efforts.
– Salmon Fishing: Trolling with plugs, spinners, and herring are popular techniques for salmon in the estuary.
Specialty Techniques for Different Species
Diverse fish species call the Columbia River home, and each may require distinct approaches. Consider learning specialized techniques like fly fishing for steelhead, trolling for salmon, or bottom fishing for sturgeon. Mastering these methods can significantly increase your chances of a successful and fulfilling fishing trip.
Wrapping It Up
With its diverse fish species, stunning scenery, and rich fishing heritage, the Columbia River promises an unforgettable angling experience. Whether you're after salmon, steelhead, sturgeon, or other species, this river offers something for every angler. So, grab your gear, get your license, and embark on your ultimate fishing adventure along the Columbia River!
Contact us now at Portland Fishing Trips and let's get started to helping you book a chartered trip for a fun time!