What to Look for in a Portland Fishing Guide
Whether it's your first time traveling to Portland or you've been there a couple of times, you most likely won't be that familiar with the waters, especially if you aren't a local. That's where a Portland fishing guide saves the day to help navigate the waters with you to find the target species you'd like to catch that day.
Of course, a Portland fishing guide has more to offer as well. They are experienced anglers who can teach you many things about how to fish for your target species in Portland. You can learn about fish activity, the factors that affect a day out on the waters, and insider tips on fishing techniques to improve your skills.
You can only reap the many benefits a Portland fishing guide offers if you choose the best one suitable for you. If you're wondering how to read on! We'll share what you must look for in an excellent Portland fishing guide.
What to Look for in a Portland Fishing Guide
There are certain skills and characteristics you want from a Portland fishing guide so you can have a fun and eventful time out on the waters. Here are the things to look for: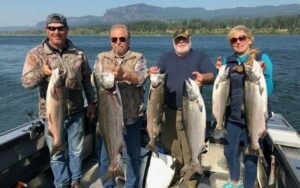 Open Communication
You'll be spending a few hours to an entire day with your guide, so you'll want to ensure that they are easy to talk with during the trip. Moreover, your chosen guide should be able to openly communicate with you (and vice versa). That means giving all the information they need to determine the best fishing trip according to your goals.
Be honest with your fishing guide on the amount of experience you have in fishing as well. This can help them know what tips and advice to offer to make the most out of your trip. A guide should be open to answering questions and set realistic expectations, so you won't go home disappointed.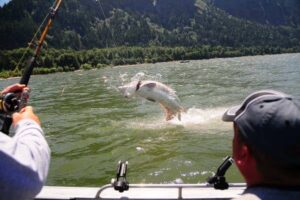 Great Recommendations
You can begin and narrow down your search for a Portland fishing guide by asking family and friends for recommendations, particularly those who are avid fishers and have been to Portland. They may be able to offer referrals and reviews from their personal experiences. Moreover, they can share more advice on what to look for in a Portland fishing guide!
Positive Reviews
Besides getting reviews from your family or friends, you can also search online. The Internet offers a lot of information about fishing guides in Portland. You can find fishing guides' websites and review platforms where people share their positive or negative experiences with a certain Portland guide.
The more positive reviews, the better! But also, take these reviews with a grain of salt, as some of them may be fabricated. It's best to check legitimate review platforms like Yelp or TripAdvisor.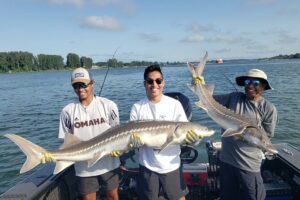 Experience is Crucial 
Of course, you want to ensure you choose a Portland fishing guide with the skills, knowledge, and experience of fishing in the area.
We recommend getting a local angler as a fishing guide who's been working for many years. You can ask the guide how long he has been on the job, and the ones working for a longer time usually possess the skills and teaching techniques to truly help with your fishing trip.
Also, an experienced guide in Portland will be well aware of the fishing rules, regulations, and restrictions set in the area. They know how much you can catch or the fish you must release so as not to get in trouble with the Coast Guard.
A Licensed Portland Fishing Guide
Just like any other product or service, you avail; you want to ensure that the business, or in this case, a fishing guide, is licensed to sell and provide services. A Portland fishing guide must be working according to the law and possess the appropriate licenses and certifications necessary to operate.
Licensed fishing guides are also ones you can rely on, so you feel more assured during the entire trip. You can determine if a Portland fishing guide is licensed by contacting the state-licensing bureau or checking online. If a guide cannot give you adequate information about his license nor can you find his name under licensed guides, then you'll want to take your business elsewhere.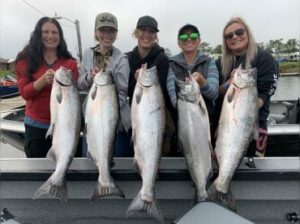 Contact the Guide 
Before you choose a fishing guide and pay for their services, you'll also want to speak with the guide and get to know them. Doing this can help you see if you'll get along and enjoy the entire trip learning. If you don't, then you'll end up wasting time and money.
Remember, your fishing trip with a guide is an opportunity to learn while having fun. If you don't get along with your Portland fishing guide well, then you might end up having a bad experience. You can avoid that by getting to know the guide first with a short chat on the phone and asking questions to know what you can expect from the trip.
Speaking of knowing what to expect, you will also want a fishing guide who is experienced but still within your budget. Find out how much the guide's services are and what is included in the package to know if you are getting your money's worth.
Wrapping It Up
A Portland fishing guide can help increase your chances of success, whether you'd like to stay inshore with the family or offshore for "the big one." As long as you take the time to research for a reputable, experienced guide, you'll learn so much as you catch much fish during your trip.
We hope that this article fully informed you of the skills and qualifications to look for in a Portland fishing guide. If you're still on the hunt for one, feel free to contact us now and we can offer our services to you at affordable rates.