The Portland Travel Guide Any Angler Needs
Welcome to Portland, a vibrant city nestled in the Pacific Northwest that offers not only a thriving urban culture but also incredible opportunities for anglers. From its scenic rivers and lakes to its nearby coastal regions, Portland provides a diverse range of fishing experiences. In this Portland travel guide, we'll explore some of the best angling spots in and around the state, along with practical tips to make the most of your fishing adventure.
The Portland Travel Guide Any Angler Needs
With the Columbia River, Willamette River, Oregon Coast, and Mt. Hood lakes and rivers at your disposal, you'll have a diverse range of fishing experiences to choose from. Whether you prefer freshwater or saltwater fishing, there are ample opportunities to pursue salmon, steelhead, sturgeon, bass, trout, halibut, lingcod, and more.
So, if you've chosen this state as your next fishing destination, check out our Portland travel guide below:
Fishing License and Regulations
Before embarking on your angling journey, ensure you possess a valid Oregon fishing license. Licenses can be obtained online or at local sporting goods stores. Familiarize yourself with the fishing regulations, including catch limits, seasons, and specific rules for each fishing location. Respecting these regulations helps maintain healthy fish populations and preserves the natural beauty of the area.
Columbia River
The mighty Columbia River is a haven for anglers seeking thrilling fishing experiences. Known for its abundant salmon and steelhead runs, this river offers fantastic opportunities for both freshwater and saltwater fishing. Popular spots for salmon fishing include Buoy 10, Cascade Locks, and the mouth of the Willamette River. For steelhead, try targeting the river's tributaries like the Sandy River and the Clackamas River.
Willamette River
Flowing through the heart of Portland, the Willamette River is an urban angler's paradise. Here, you can catch a variety of species such as salmon, steelhead, sturgeon, bass, and trout. The stretch between the city and Oregon City is particularly fruitful. Consider launching your boat at Sellwood Riverfront Park or fishing from the bank at Cathedral Park. Additionally, the Willamette's tributaries, including the Tualatin River and the Clackamas River, offer exceptional angling opportunities.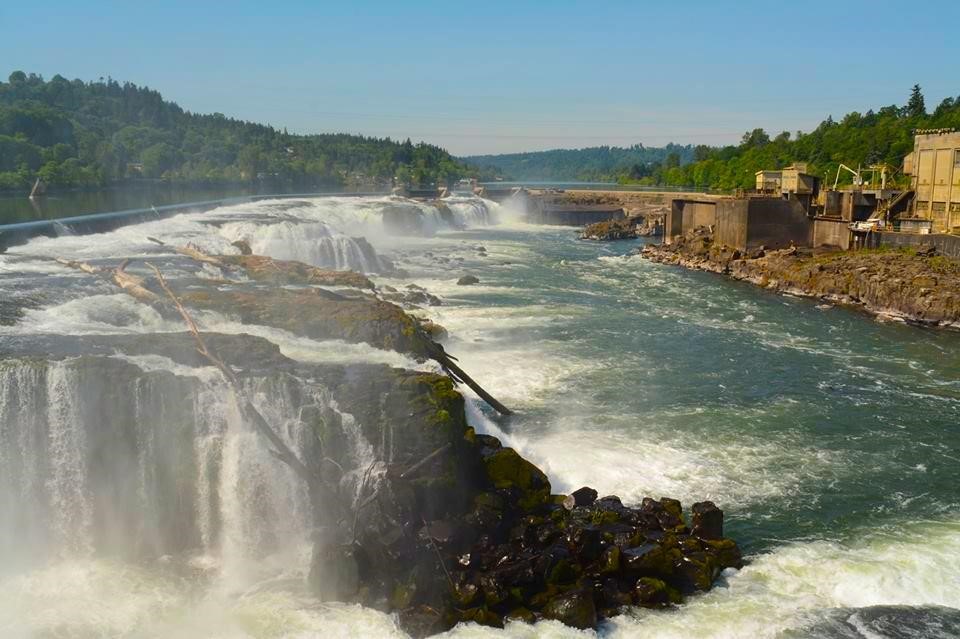 Coastal Fishing
Venture to the Oregon Coast for an unforgettable saltwater fishing experience. From Portland, you can reach coastal towns like Astoria, Seaside, and Tillamook within a few hours. Here, you can pursue species such as halibut, lingcod, rockfish, and various types of salmon. Charter a fishing boat or cast your line from the shore at renowned spots like Nehalem Bay, Tillamook Bay, or Depoe Bay. Be sure to check local regulations and seasons for each species before heading out.
Mt. Hood Lakes and Rivers
Escape to the scenic Mt. Hood area, just east of Portland, where numerous lakes and rivers teem with trout, steelhead, and salmon. The Sandy River, Hood River, and Clackamas River are popular destinations for fishing enthusiasts. For a tranquil fishing experience, explore the alpine lakes nestled amidst the majestic mountains. Timothy Lake, Trillium Lake, and Lost Lake are well-known for their populations of trout and kokanee salmon.
Equipment and Gear
Ensure you have the right fishing gear for the specific type of angling you plan to undertake. Fly fishing is particularly popular in the region, so pack a fly rod, waders, and appropriate flies. For saltwater fishing, bring sturdy rods, reels, and tackle suitable for ocean conditions. Local fishing shops in Portland can provide advice on gear selection and even offer guided fishing trips.
Local Fishing Resources
Tap into Portland's angling community by joining local fishing forums, social media groups, or attending fishing expos. These resources will help you stay updated on the latest fishing reports, connect with fellow anglers, and gain valuable insights into the best fishing techniques and spots.
Travel Around Portland
Remember that Portland isn't just about fishing. Portland not only offers incredible fishing opportunities but also serves as an ideal base for an angler's vacation.
Take some time to explore the city's vibrant culture, renowned food scene, and breathtaking natural surroundings. From hiking in Forest Park to exploring the vibrant neighborhoods and indulging in local cuisine, Portland has something for everyone. Here are a few travel tips to follow when in Portland:
Look for accommodations in areas that provide convenient access to fishing spots. Consider staying near the Willamette River, where you can find hotels or vacation rentals that offer easy access to urban fishing opportunities.
If you're new to the area or want to enhance your fishing experience, consider hiring a fishing charter or guide service. Local guides can provide valuable insights, help you navigate the waters, and increase your chances of a successful fishing trip.
Portland is renowned for its culinary scene, so take advantage of the fresh catches from your fishing adventures. Many local restaurants and markets offer the option to prepare and cook your own catch, providing a unique and delicious dining experience.
While fishing is the main attraction, don't miss the chance to explore the natural beauty surrounding Portland. Take a break from fishing and hike through Forest Park, visit the iconic Multnomah Falls, or enjoy a scenic drive along the Columbia River Gorge. These activities allow you to immerse yourself in the region's stunning landscapes and recharge before your next fishing excursion.
Plan your trip around fishing events and tournaments that take place in and around Portland. These events not only offer a chance to compete but also provide opportunities to connect with fellow anglers, learn new techniques, and celebrate the angling community.
If you're traveling with family or friends who may not be as interested in fishing, Portland has plenty of attractions and activities to keep everyone entertained. Visit the Oregon Zoo, explore the interactive exhibits at the Oregon Museum of Science and Industry (OMSI), or stroll through the vibrant neighborhoods and browse local shops.
Wrapping It Up
Portland and its surrounding areas offer a wealth of fishing opportunities for both seasoned anglers and those new to the sport. Whether you're chasing salmon in the Columbia River or casting for trout in the serene mountain lakes, Portland has something to offer every angler.
So pack your fishing gear, set your sights on Portland, and get ready for an angler's paradise. Discover the thrill of catching fish in beautiful and diverse settings, create lasting memories, and immerse yourself in the natural wonders of the Pacific Northwest. Don't forget to book a fishing charter so you can have even more fun with a knowledgeable captain and guide to help you land more fish. Contact us now to learn about our services!