Columbia River Steelhead Fishing 2022
Are you planning to go to Columbia River for some fishing action? Then one of the fish you should target is steelhead trout, known for their fun fight and delicious meat! Whether it's your first time to fish or have been fishing for years, steelhead trout will be an enjoyable catch.
But you might be wondering about any Columbia River steelhead fishing tips you can learn about. Read on as we share what you need to know about this species and how to catch them this year!
Columbia River Steelhead Fishing 2022
Columbia River steelhead fishing is one of the most enjoyable activities any angler partakes in when around the area. This is a fishery where anglers can expect to reach double digit hook-ups in their trips, and fun ones at that! That's because steelhead trout are acrobatic fish that can put up a great fight when using light tackle.
As you can expect, steelhead is one of the sought-after fish in western North America, where you can find many of them ready to be caught in Columbia River. So, if you're contemplating on targeting this ultimate game fish, here are a few things to follow:
Fishing Techniques
You can opt for various techniques when fishing for steelhead! But no matter what gear you plan to use, here are three major tips to follow as you catch steelhead:
Spend more time on the water, learning more about the river and honing your technique. That way, you have higher chances of landing more fish compared to chasing after hot leads.
Cover water efficiently, keeping your bait or lure near the bottom and fishing parts of a run or pool.
Always keep a positive attitude and feel confident when fishing, along with the bait or lure you'll use.
Consider booking a fishing charter, where you can learn more about the Columbia River and the fishing techniques most effective in catching steelhead.
Here are the techniques you can try:
Bobber and jig/bait – This is an effective technique for bank and beginner steelhead anglers. You will tie a weighted jig or bait below a floating bobber then have it drift in the current. If you notice the bobber stopping, diving, or wobbling, set your hook!
Drift fishing – In this technique, the lure or bait is bounce along the bottom with weights. You will need to keep your bait near the bottom, drifting along the similar speed as the current.
Plunking – Heavy weight will hold your bait or spinner-type bobber stationary in the current near the river bottom. We recommend using this technique when the water levels are high, and steelhead are eighter holding or traveling in soft waters near banks. This is also suitable for beginner anglers and those with limited mobility.
Spinners – You probably know about the cast and retrieve method, but what about the cast and swing presentation? This method would usually involve you casting your spinner slightly upstream, allowing it to drift naturally in the current, this swinging towards the bank.
Backtrolling or pulling plugs – Plugs are plastic lures that dive and wiggle in the current. They are usually pulled behind boats to move and wiggle in the water when drifting downstream. However, you can also cast plugs from the bank to slowly swing in the current.
Fly fishing – This is a challenging yet enjoyable technique when catching steelhead. In this technique, you will use a single or double-handed rod to swing flies through the current.
Equipment to Bring
Compared to salmon fishing rods, steelhead rods are a bit lighter and more sensitive. If you're aiming for both species, you can prepare an all-purpose rod, which is about 8 ½ feet with an 8-12-lb test line and medium-heavy action. Many anglers opt for a bait casting setup instead of the spinning setup.
There are specialized rods for various fishing techniques, and we understand that it's a bit overwhelming, especially if you are new to Columbia River steelhead fishing! That said, you can start off by considering these factors:
What type of fishing do you plan to do the most?
The lure size you will cast
The type of reel you have
Line size
Rod length (this depends if you will cast on large or small streams, or if you will fish from a boat)
Equipment price and warranty
Fishing equipment can get quite pricey. If you don't plan on using them in the long run, or if you are still a beginner testing the waters in the world of fishing, you likely won't want to spend as much. That's why it may be best to book a fishing charter, which already provides the fishing gear made for your trip, so you won't have to purchase or rent equipment.
Moreover, a fishing charter has an experienced captain and crew who can help set up the gear and teach you how to use it. They can also teach you how to perform fishing techniques to catch steelhead, which is helpful if it's your first time.
Fishing License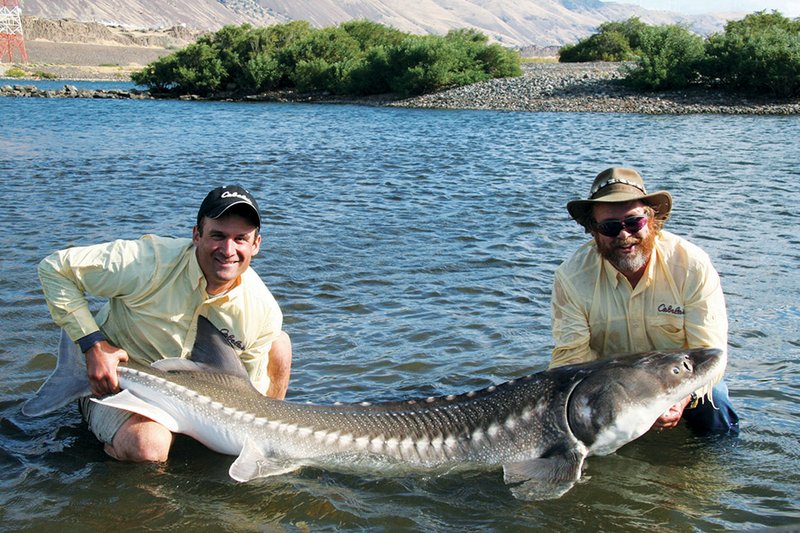 You will need a fishing license when fishing in the Columbia River. But other than a fishing license, you will also need to buy a Combined Angling Tag, which is applicable for catching steelhead, Pacific halibut, sturgeon, and salmon.
If you plan on fishing in the Columbia River Basin, you must avail a Columbia River Basin Endorsement. For those interested in harvesting additional hatchery fish, you can avail a Hatchery Harvest Tag.
Wrapping It Up
We hope that this guide on Columbia River steelhead fishing will help you in your future trips! Don't wait any longer and start planning your adventure in Columbia River now.
Are you still looking for a reputable fishing charter or guide to help navigate the waters and teach you more effective techniques in catching fish? Contact us now to learn more about our services and book a charter for your upcoming fishing trip!