Best Times and Techniques to Catch Salmon Near Portland
Portland is one of the many beautiful cities worth visiting and not only for its tourist attractions. They are also known for their excellent salmon fishing action. If you're targeting salmon, then Portland is the place to be. In fact, this city is known to be one of the best fishing destinations around the West Coast!
But before you head to Portland, you've got to consider two things to make your fishing trip a successful one, and these are the best times and techniques to catch Salmon near Portland!
We share a quick guide to help you prepare, so read on!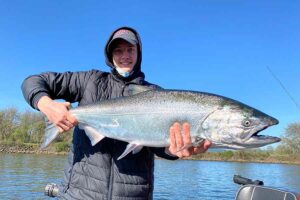 Best Times and Techniques to Catch Salmon Near Portland
Portland offers one of the best fishing opportunities all year long, but some of the best times to catch salmon are when they are running. Fortunately, they would run most of the year in Portland from rivers and streams.
The first salmon run will begin with chinook in spring, ending with more chinook runs during the fall in coastal rivers.
Silver salmon would run twice in Portland, with one of the runs falling between September to October. The other run will begin in mid-October and end in November. Fun fact: While not salmon, it's worth noting that Sturgeon prefer colder waters and will begin moving up rivers in October, but you can only harvest them in January, even if you can catch them all year round.
With that in mind, we suggest scheduling your fishing trip in the late fall to catch a variety of salmon species.
To be more exact with the times, here are the months to fish for salmon near Portland based on the specific species you want:
Chinook (King Salmon) – June to August
Coho (Silver) Salmon – July to October
Sockeye Salmon – June to August
Chum (Dog) Salmon – Begins in July, but it's best to target them from October to December.
With that said, it's best to target chum salmon from October to December, while Chinook, Coho, Sockeye, and Pink Salmon are best to get from June to September. Note that you can catch Pink salmon during an odd number of years.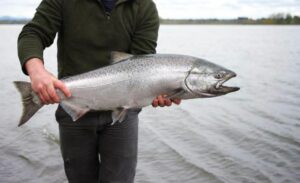 Fishing Regulations
In general, Portland's salmon fishing runs from April to November, with summer being the peak season to catch these fish until the end of July. But other than when you should catch salmon, you also need to be aware of the state's regulations.
There are a few general rules and regulations to follow, including how many salmon you can catch, the size you can keep in your possession, and where you're allowed to fish.
Anglers must carry a Combined Angling Tag every time they go fishing. These tags can be purchased once a year and are limited in how many fish anglers can harvest. If you are only visiting Portland, you must get a non-resident license for short stays and fishing excursions.
Your fishing charter or guide is familiar with the catch limits and regulations. Plus, fishing charters would have their own fishing licenses, which lessens the hassle of people having to avail themselves. We suggest clarifying this with your charter captain beforehand, though.
Now, what about the fishing tips and techniques to use for catching salmon near Portland? We break it down based on the two most common salmon types: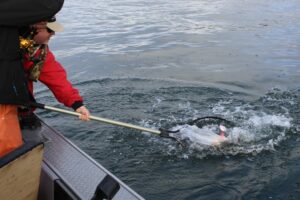 Coho (Silver) Salmon
Silver salmon would run a few times throughout the year, with their biggest runs being during the mid-fall. You can witness spring-run silvers, but they won't reach the massive numbers of fall-run salmon. As for the time of day to target silvers, we recommend fishing during dusk and dawn.
Fishing for salmon is quite similar to trout, but with key differences. For starters, they have a different diet when salmon are in freshwater. Silver salmon would target any type of eggs or small baitfish, with inline spinners and spoons being the most popular choices. That said, eggs and egg imitation baits are quite effective.
You'll find silver salmon sticking to the main rivers around Willamette, Columbia, and Portland. They will be all over the waters during their runs to the point it's hard to find an area without silver salmon.
We recommend fishing by eddies, near fast-moving water, and in deeper spots. Silver salmon prefer clean, cold water, with the extra current helping them get that. Plus, strong currents will help bring more food for salmon, another huge plus.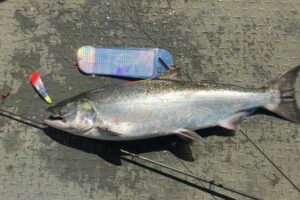 Chinook (King) Salmon
King salmon are the largest species among Pacific salmon. They are also one of the most popular species to target. You can expect spring, and fall-run king salmon in Portland, with fall, runs beginning in August to September or October. Spring will happen from March to April.
We recommend targeting them in the morning, right before the sun hits its peak, when the time of day to catch King salmon. These salmon would feed on eggs and baitfish, so inline spinners, spoons, and crankbaits are ideal baits. Moreover, you can find king salmon in Columbia and Willamette rivers.
Note that these salmon don't travel as far as silver salmon as they need larger waters to live in. That's why you're better off targeting these fish around deeper spots right on the edge of fast currents.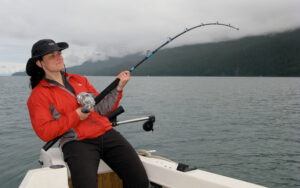 Wrapping It Up
Salmon fishing near and within Portland doesn't need to be so complicated. It all begins with the basic knowledge of when to fish for certain salmon species and what techniques to use. If you're a beginner, we recommend hiring a guide or joining charters who can guide you to the best spots to catch salmon and teach you how to reel one in successfully. 
We hope this guide on the best times and techniques to catch Salmon near Portland helped you out. Now that you know the basics of salmon fishing, why not begin planning your ultimate fishing trip to the area? Contact us now, and we can connect you with the best charters and guides in the area.