Portland Oregon Fishing Guides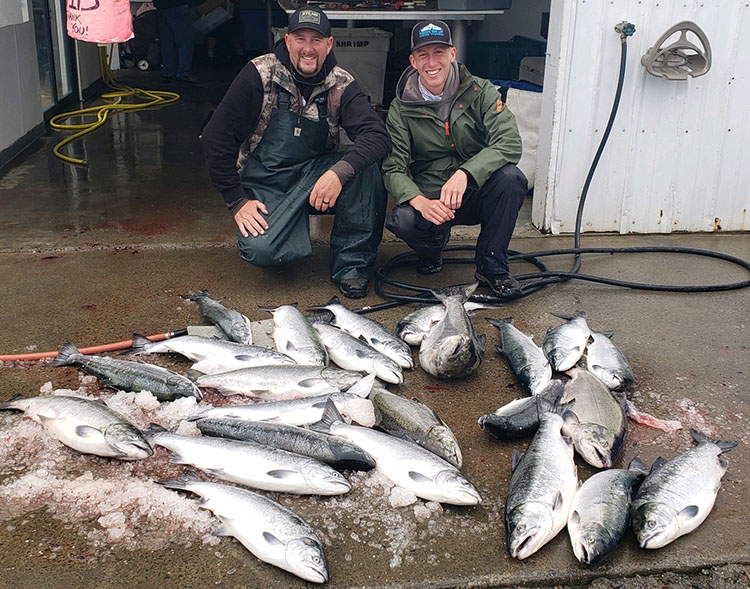 Hook'em Up Guide Service is Portland Oregon's premier fishing guide and charter service. We offer guided trips on all parts of the Columbia River as well as the Willamette River in the Portland area. We help anglers catch a variety of fish including Coho Salmon, King Salmon, Steelhead, & Sturgeon.
If your have questions, call (503) 575-8755 or shoot us an email.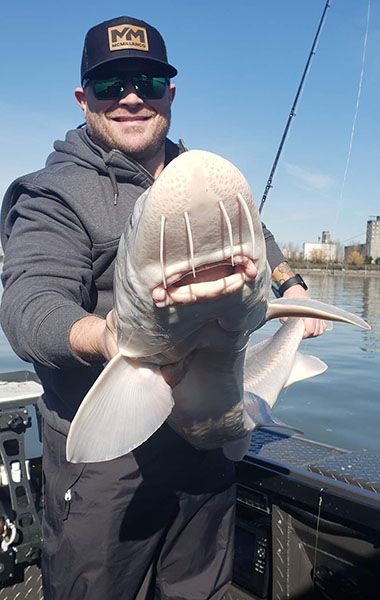 CURRENT & UPCOMING 2023 SEASONS IN PORTLAND
March 2023-  We are currently fishing for Spring Chinook Salmon here in the Portland area.  Portland Oregon's Spring Chinook Salmon season runs March through mid July.  We troll flashers to attract the fish.  With baits or lures a few feet behind, ready for a Salmon to strike and eat.  We will be fishing on the Columbia and Willamette rivers in Portland, Oregon. 
Sturgeon fishing trips are also available in the Spring. We will be chasing these tough fighting prehistoric fish throughout the entire season.  These fish are catch and release only but make for an action packed exciting day of fishing.  Fun for all ages and skill levels.  We anchor and bottom fish with baits such as herring and smelt.  Our boats can hold up to 6 clients on a trip.
If fishing for Salmon and Sturgeon on the same day interests you.  We offer Salmon and Sturgeon combo trips.  This is our most popular trip in the Spring.
Give us a call or Email and we can get you out on the water for a fun fishing adventure here in Oregon.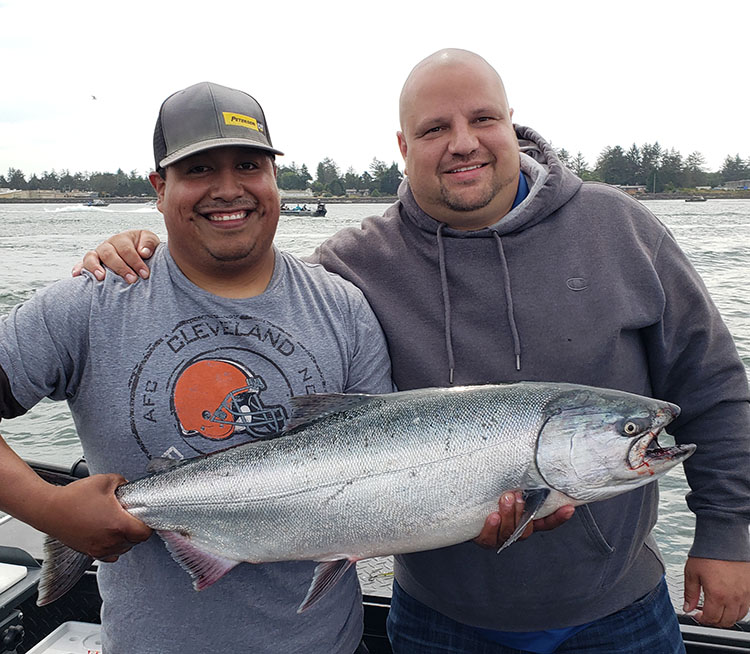 OREGON FISHING CHARTER LOCATIONS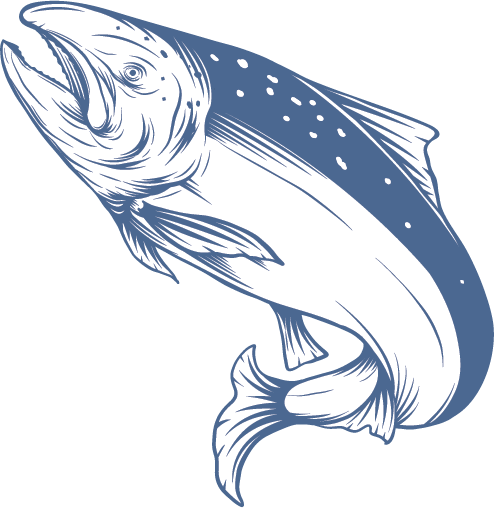 PORTLAND
Portland has a number of places to fish nearby. The three major bodies of water we fish include the Columbia, Clackamas, and Willamette Rivers. Depending on the season, we fish different sections of the rivers. They produce trophy Salmon (Coho and Chinook), Steelhead trout, Sturgeon, and Walleye.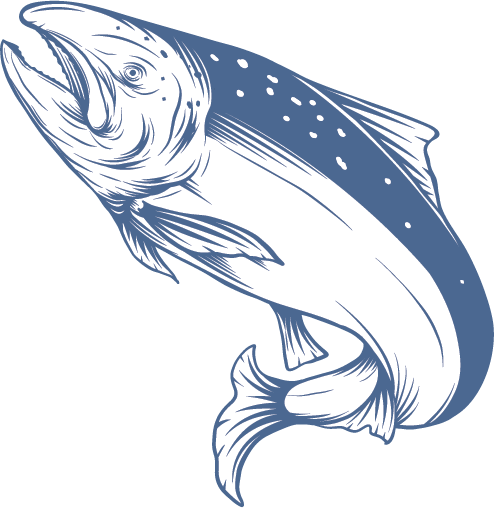 ASTORIA
Astoria offers some of the most beautiful scenery and best fishing Oregon has to offer. It's world-famous for the massive salmon run at the end of the summer. We spend nearly 60 days a year guiding anglers on the Columbia River near Astoria to guarantee our customers the best experience.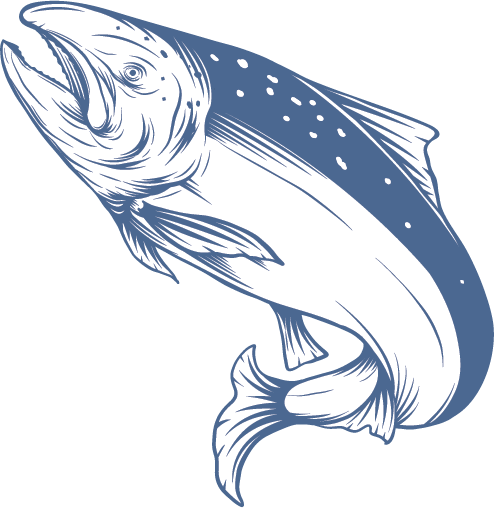 TILLAMOOK BAY
The Tillamook Bay is famous for much more than just cheese, it also provides some of the best fishing Oregon has to offer. The bay is fed by a number of different rivers, making it an ideal place for fish to live and breed. It's also an added benefit that you can go check out the cheese factory!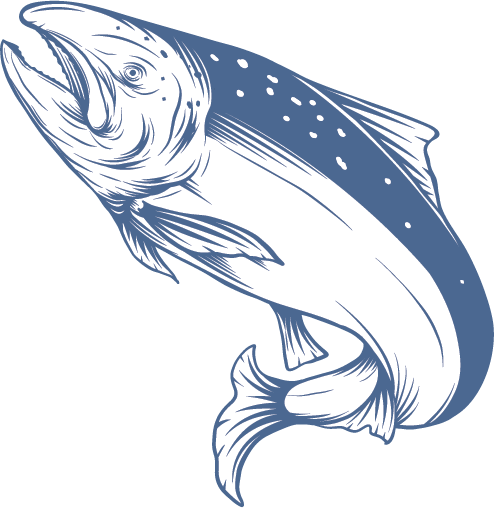 COLUMBIA RIVER
The Columbia River is rather large and we fish the majority of it. We take groups to catch Coho Salmon, Chinook Salmon, Sturgeon, and Steelhead trout. The most popular locations are near Portland and down in the Astoria area.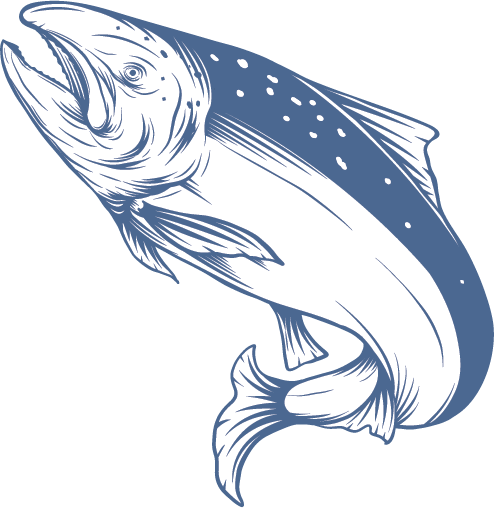 BUOY 10
Buoy 10 is found where the Columbia River lets into the ocean. The very specific location is world-famous for having some of the best salmon fishing. In addition, its a great place to catch dungeness crab. The best times are July to September.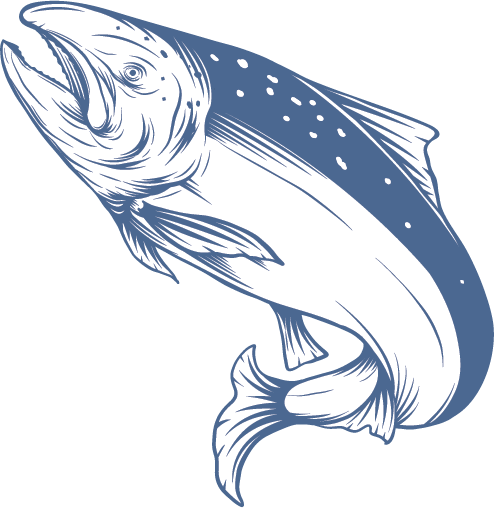 WILSON RIVER
The Wilson River leads into the Tillamook Bay. It's extremely popular for those seeking out steelhead trout but is also good for catching winter Steelhead, cohos and Kings. Hook'em up offers scenic and personal drift boat trips down the Wilson and Nestucca.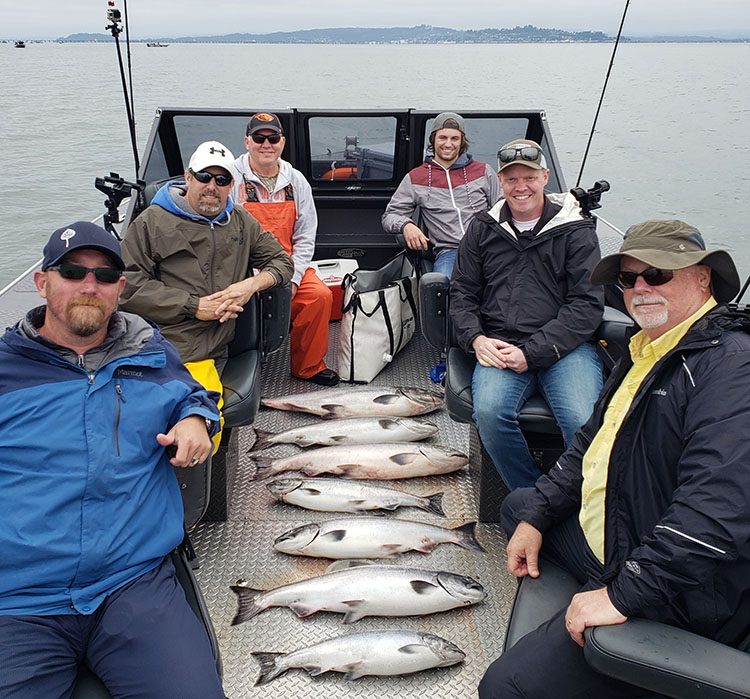 SPRING FISHING CHARTERS
Our Spring Salmon season starts mid March and continues into July. King Salmon & White Sturgeon combo trips are available in the Spring. The fishing is often action packed, some days with multiple rods HOOKED UP at once. Some days we have to really work for those bites. Sturgeon are primarily catch and release only.  An angry Salmon or Sturgeon darting side to side, jumping and peeling line always gets the heart pumping.  A strong powerful and fierce battle.
SUMMER FISHING CHARTERS
The Summer season we fish the Portland and the coastal waters near Astoria. The Hammond Marina is our home base when fishing at the coast.  It's a 2 hour drive from Portland.  In Portland we operate out of the Hayden Bay Marina on the Columbia River. Only 10-15 minutes from Downtown. Free parking, clean restrooms dockside, ice machines, and fish cleaning area is what you can expect with us. All fishing gear is provided.    We work with other top local guides. If you have a large group in need of multiple boats, we can put it all together for you.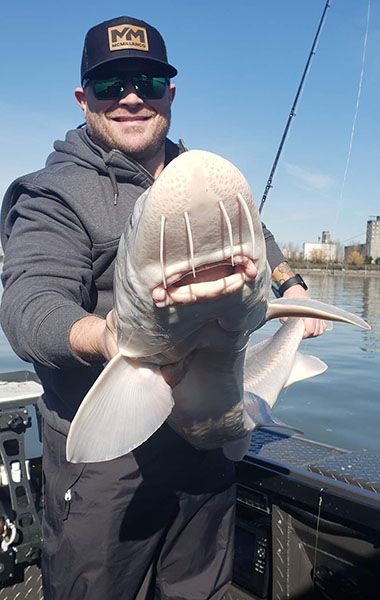 WHY CHOOSE HOOK'EM UP FOR YOUR NEXT GUIDED FISHING TRIP IN OREGON
On all our trips we supply the highest quality fishing gear and bait.  We keep our boats and gear clean and well maintained.  We take pride in being sure everything is ready to go when you arrive. We even sell fishing licenses onboard the boat.  We love helping people catch trophy fish.  The Excitement! The Adrenaline Rush! It's Awesome!
Being a part in someone catching their first Salmon or Sturgeon is what we're passionate about. We strive to make sure everyone feels safe, comfortable and is having a good experience.   Our goal is not to just catch fish but to have fun and share a few laughs together as well. It's great for visitors of Portland to see the city area from the river.  Fishing with us is like fishing with a friend and we wouldn't want it any other way.  Join us on a fun adventure of fishing here in Portland Oregon.